Rumor: Angelina Jolie Eyed To Direct 'Captain Marvel' [Updated]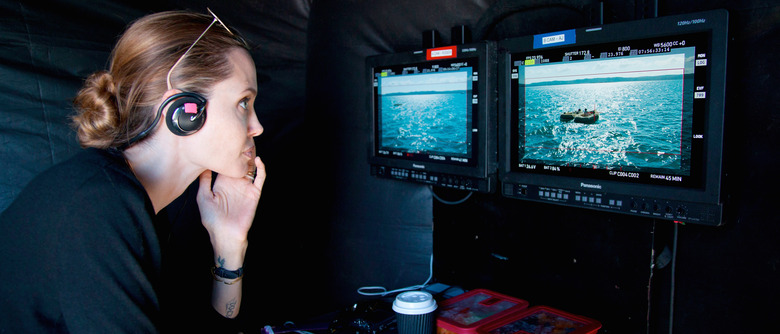 Marvel Studios' Captain Marvel recently picked up two screenwriters, Nicole Perlman and Meg LeFauve, but it still needs a few more pieces before cameras can roll. Like a director. And rumor has it Angelina Jolie could be the one to get that gig. That is, if Warner Bros. doesn't snap her up for Wonder Woman first.
Update: Just a few minutes after we ran this post, news broke that Patty Jenkins had been set to helm Wonder Woman. So we can rule Jolie out of the running for that one, at least. Original story follows.
Get all the dirt on the Angelina Jolie Captain Marvel rumor after the jump. 
Collider reports Jolie is "definitely under consideration" for the Captain Marvel job, but that she's also a possibility for Wonder Woman now that Michelle MacLaren has jumped ship. Keep in mind that neither studio has confirmed anything at this point, so Jolie's potential involvement should be treated as rumor, not fact.
Jolie is currently in post-production on By the Sea, in which she also stars with Brad Pitt. The poaching drama Africa is supposed to be next on her to-do list, but word is it's on shaky ground right now. If it gets scrapped or postponed, she could have room in her schedule to make Captain Marvel or Wonder Woman.
Warner Bros. said last fall that it wanted female director for Wonder Woman, and it quickly found one in Breaking Bad vet MacLaren. However, she departed earlier this week over "creative differences." Meanwhile, Marvel Studios is also reportedly looking to hire a female director for Captain Marvel.
Wonder Woman and Captain Marvel are the first female-led films in their respective franchises. If all goes to plan, they would also be the first female-directed ones.
It's not hard to see why these projects would be interested in Jolie. She's one of the few big-name female directors out there (even if she is more famous for acting than directing at this point). And she does have some experience directing large-scale, effects-heavy action, thanks to Unbroken. Plus, her badass reputation would mesh well with these badass characters.
Whether Jolie is interested in these projects is another question. As a filmmaker, she's tended to gravitate toward more serious material, and hasn't shown any particular interest in making a big-budget tentpole pic. But she's clearly not against them in general — her biggest box office hit as an actress was last year's Maleficent, released by Marvel parent Disney.
Of the two superheroine movies, Warner Bros. / DC's Wonder Woman is slated to open first, on June 23, 2017. Captain Marvel follows on November 2, 2018.
Do you think Jolie would make a good fit for Captain Marvel or Wonder Woman? Which would you rather see her direct?