Ian McKellen And Gugu Mbatha-Raw Board 'Beauty And The Beast'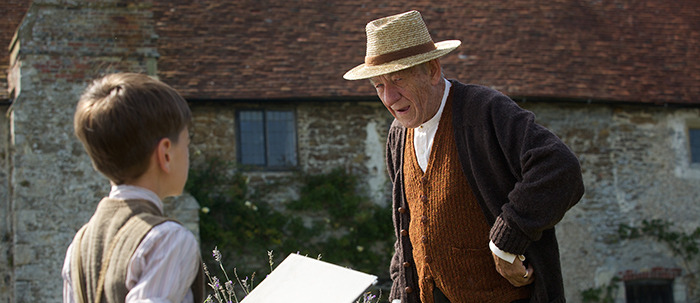 You wouldn't think that playing a household object would be a prestigious gig. But apparently it's good enough for the likes of Emma Thompson and Audra McDonald, and now Ian McKellen and Gugu Mbatha-Raw are getting on the action as well.
McKellen and Mbatha-Raw are set to play Cogsworth the clock and Plumette the feather duster, respectively, in Bill Condon's Beauty and the Beast. More on the Gugu Mbatha-Raw and Ian McKellen Beauty and the Beast casting after the jump. 
Variety reported both pieces of casting. Beauty and the Beast is a live-action retelling of Disney's acclaimed 1991 animated feature. In that movie, Cogsworth was the Beast's stuffy and serious but ultimately kind-hearted butler. The feather duster was named Fifi (not Plumette) and was a flirtatious housemaid.
As previously reported, Emma Watson leads the cast as bookish Belle. Dan Stevens plays the Beast, whose brattiness as a child was such that the Enchantress felt compelled to curse not just him but his entire household staff. (Which probably says more about the Enchantress than the Beast, come to think of it.)
Continuing on, Luke Evans is boorish Gaston, Josh Gad is Gaston's sidekick Le Fou, and Kevin Kline is Belle's dad Maurice. Thompson will play maternal teapot Mrs. Potts, and McDonald is friendly wardrobe Garderobe. McKellen's casting as Cogsworth and Mbatha-Raw's as Plumette leaves amorous candlestick Lumière as the last major servant-turned-household-object remaining to be cast.
McKellen just recently worked with Condon on Mr. Holmes, in which he plays an aged version of the famed detective. The film opens July 17 in the U.S. Last year he reprised two of his most famous big-screen roles: Gandalf in The Hobbit: The Battle of the Five Armies, and Magneto in X-Men: Days of Future Past.
Mbatha-Raw is coming off of Jupiter Ascending. She recently had two well received leading roles, in Beyond the Lights and Belle. She's now filming the Civil War drama The Free State of Jones opposite Matthew McConaughey and will soon be seen in the NFL drama Concussion with Will Smith.
Beauty and the Beast is one of several Disney animated classics getting a live-action makeover. The studio is also working on new versions of The Jungle Book, Pete's Dragon, Dumbo, Mulan, Winnie the Pooh, and Pinocchio. Its most recent live-action fairy tale release was Cinderella.
Condon is directing Beauty and the Beast from a script by Evan Spiliotopoulos and Stephen Chbosky. Production begins this year for release on March 17, 2017.