Rebel Wilson Confirms 'Pitch Perfect 3' Is Happening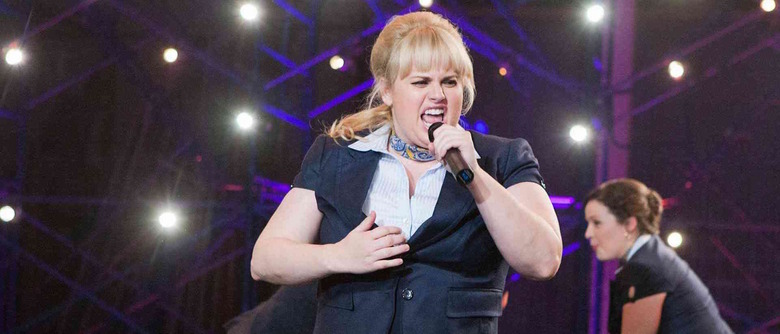 Pitch Perfect 2 hasn't even hit theaters, but the Barden Bellas are already preparing for their next show. Or at least one of them is. Rebel Wilson, who plays Fat Amy, has confirmed that a Pitch Perfect 3 is coming, and that she is set to star. More on Pitch Perfect 3 after the jump. The LA Times' Amy Kaufman got the scoop straight from Wilson herself.
News: Rebel Wilson just told me there will be a 3rd @PitchPerfect and she recently signed on to be in it! (She doesn't know abt Kendrick.)

— Amy Kaufman (@AmyKinLA) April 11, 2015
While Pitch Perfect 2 doesn't open for another few weeks, we already know that it deals with the Barden Bellas from the first film going their separate ways. Director Elizabeth Banks explained last year:
The girls are now graduating seniors. They're coming to the end of their time as Bellas and figuring out how to sort of leave the nest and the comfort of each other's friendship and figure out what they're going to do with the rest of their lives.
So that raises the question of what, exactly, a Pitch Perfect 3 will be. Will it pick up with Beca, Amy, and the rest of the original cast after college? Will something bring the alums back to the Barden Bellas? (God forbid the Bellas become the aging Tonehangers from the first film.) Or will Fat Amy simply be on hand to pass the torch to the next class?
Then again, the fact that Chloe (Brittany Snow), Aubrey (Anna Camp), and Bumper (Adam Devine) graduated in the last film didn't keep them from returning for this one. Presumably they'll come up with some creative way to get the gang back together again in Pitch Perfect 3.
In addition to directing Pitch Perfect 2, Banks reprises her role as a cappella announcer Gail. Skylar Astin, Hana Mae Lee, Ester Dean, Ben Platt, and John Michael Higgins return along with Wilson, Kendrick, Camp, Snow, and Devine. New cast members include Hailee Steinfeld and Katey Sagal. Pitch Perfect 2 opens May 15.