Cool Stuff: JC Richard's 'The Empire Strikes Back' Dagobah Poster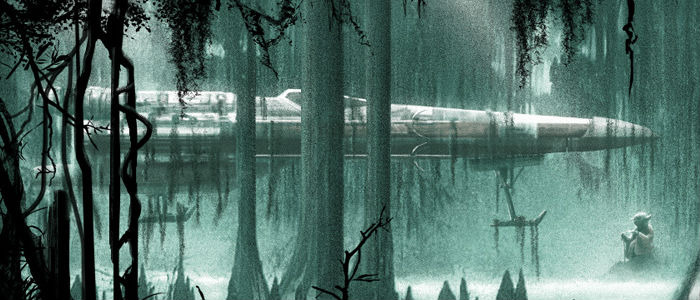 There's little argument that The Empire Strikes Back is the best Star Wars film. Nevertheless, it's always surprising it achieves so much with so little. The story is incredibly compact, following our heroes to only three primary locations. The film has a reputation as a sprawling sci-fi epic, but the fact that it is not actually that sprawling is part of what makes it so good.
Those locations – Hoth, Dagobah and Cloud City – have become some of the signature vistas in the Star Wars universe and it's always nice to see how artists interpret them. One of the best artists at capturing those sprawling landscapes is JC Richard, and /Film is proud to exclusively reveal his latest print. It's called The Impossible and goes on sale Friday April 10. See images and get more info on the JC Richard Empire Strikes Back poster below.
Here's The Impossible by JC Richard. Click to see it larger.

And here are a few close-ups.
The poster is a 36 x 12 inch screenprint in an edition of 150. It'll cost $40 and go on sale at 2 p.m. EST at www.microcosmicmedia.com.
I asked Richard to explain why he chose to do this specific image in this specific way, and he replied:
Why Dagobah? These are the scenes I always come back to when thinking about the original trilogy. "Try not. Do... or do not." This is Star Wars to me–no midicloridians, no voodoo, no dogmatic bullshit; it's just a teacher trying to get his student to remove himself as the obstacle to success, to tap into his true potential and manifest the power he doesn't even realize he has. Even now as I watch ESB and listen to Yoda speak about the Force, I believe in it all over again... that its energy surrounds us, binds us.. that luminous beings are we, not only this crude matter.. for my ally is the force..and a powerful ally it is.
What do you think of JC Richard's Empire Strike Back poster?