Mariah Carey Christmas Movie In The Works From Brett Ratner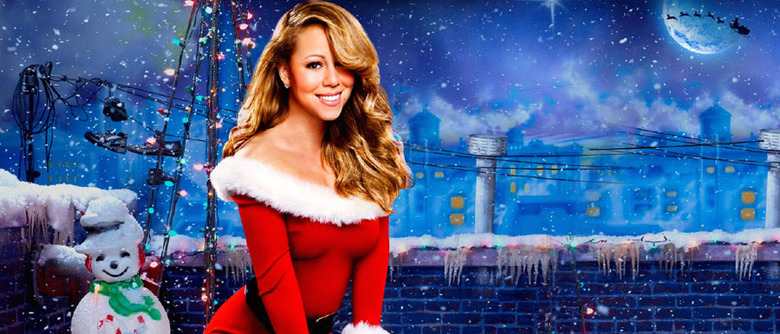 All Mariah Carey wants for Christmas... is for you to check out her new holiday movie. New Line is developing an untitled Yuletide project to star Carey and center on the power of music. Brett Ratner will produce through RatPac Entertainment. Get all the details on the upcoming Mariah Carey Christmas movie after the jump. 
New Line just recently picked up the pitch for the untitled Mariah Carey Christmas movie, as reported by Deadline. David Diamond and David Weissman are writing the script. John Shestack will produce along with Ratner, and James Packer and John Cheng will executive produce. Carey is the one who came up with the idea for a Christmas movie and brought it to her friend Ratner.
The project is said to revolve around Christmas, as well as the idea that "the power of music can transport you back in time to your truest and most authentic feelings." Music by Carey and other artists will be featured. In addition, Carey will play a major role in the movie. Additional details are being kept under brightly colored gift wrapping and tightly knotted bows for now.
The holiday season has traditionally been good to Carey. "All I Want for Christmas Is You," from her 1994 holiday album Merry Christmas, is still her biggest international hit of all time. And in contrast to her other '90s hit singles, the song is regarded not as a nostalgia-inducing relic but as a perennial holiday staple. To date, over 14 million copies of the song have been sold.
Carey has a handful acting credits including the famously panned Glitter. She received much better reviews for her work in Precious and Lee Daniels' The Butler.
Diamond and Weissman previously scripted the 2000 holiday dramedy The Family Man, which Ratner directed. The screenwriting duo's other works together include When in Rome, Old Dogs, and Evolution. Currently, they are working on Last Vegas 2.
Ratner is coming off of Hercules (the Dwayne Johnson one, not the Kellan Lutz one). His relationship with Carey goes way back — he directed the 1999 music video for "Heartbreaker." Revisit it below:
And for good measure, here's "All I Want for Christmas Is You." (I know it's been stuck in your head since you saw the words "Mariah Carey" and "Christmas" in the same sentence at the top of this page.)