WonderCon 2015 Video Blog: 'Mad Max: Fury Road' And 'San Andreas' Footage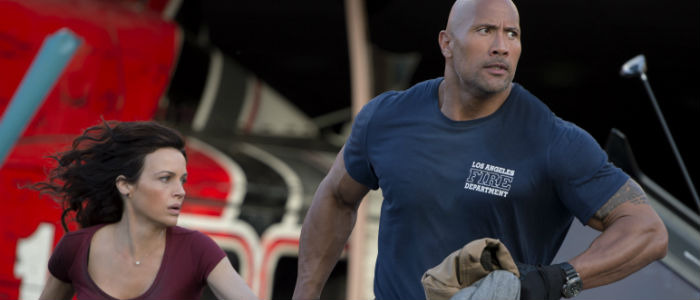 This past Saturday, Warner Bros. had the honor of hosting the most anticipated and speculated about movie panel of WonderCon 2015. Would the studio show anything from Batman v Superman: Dawn of Justice, which will be debuting a trailer in May? The answer was "No." They did, however, show some incredibly impressive footage from two of their huge May releases: George Miller's Mad Max: Fury Road and Brad Peyton's San Andreas.
Part of the /Film team, in this case myself and Peter Sciretta, were on hand and recorded a video blog minutes after the panel to give you our impressions of the brand new footage from both Mad Max and San Andreas. Watch it and read more below.
Here's our WonderCon Warner Bros. video blog.
If you want a few more details of the Max Max: Fury Road clip that was shown (and we discuss above), here's a rundown:
Mad Max Footage Description
This takes place moments after the film's opening chase scene. It's about 20 minutes into the film.
Max is in the sand, facedown with a mask on. He's in chains, having visions and grabs around his neck. There, he feels something besides a chain. It's a hook. He tears it out and begins to follow the chain. The chain is attached to another arm. A person, buried in a car in the sand. It's Nicholas Hoult's character. Max drags him out of the car and begins to tear at the chain. He can't get it off. So, he sees a shotgun. The shotgun is loaded and Max grabs it, puts it up to Hoult's arm and pulls the trigger. It malfunctions. Max then begins to chew on his hand before he sees something in the distance.
Max puts Hoult's character on his shoulders and walks to the mysterious vision on the horizon. It's a huge water tanker. He comes around the corner and sees about five or six beautiful women washing each other off with a hose. Max, however, isn't looking at the girls. He's looking at the water. The girls take off what appear to be chastity belts with spikes on them. They say to the person in charge, "We're not going back." Max pulls the shotgun on them. He's thirsty and, apparently, utters his first line of dialogue in the film. "Water." A pregnant girl walks up to him with a hose, as Max keeps the gun on her the whole time. He starts to drink as the spillage falls on Hoult. Max orders another girl with bolt cutters to come and get this chain off. Off in the distance we see more people coming.
As the other girl starts to cut the chain, Charlize Theron's character – the woman in charge –  tackles Max. A fight ensues with Hoult's character dragging along. He wakes up and we see that Theron's character only has one arm. She's hidden a gun and tries to grab it. However, the magazine falls out and the girls all jump toward it. The fight continues. Hoult tries to steal the magazine but it doesn't work. Theron's character gets it, cocks it, and starts to fire at Max. End of scene.
Mad Max: Fury Road opens May 15. San Andreas opens May 19.