Tom Hardy Is Signed For Three More 'Mad Max' Movies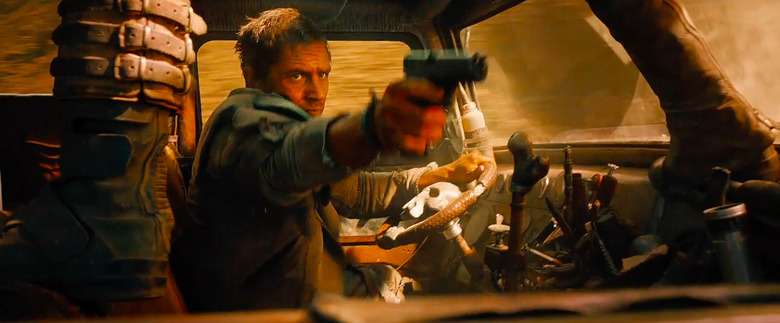 Each new dose of Mad Max: Fury Road footage (like this week's trailer) has only upped our amazement that a film like this can even come out of a major studio in 2015, and the film is lodged firmly atop our collective "most anticipated of the summer" list. If the film lives up to the promise of this early footage, and audiences respond, we might see star Tom Hardy return for several more runs as Max. He revealed in an interview that he is signed for three more Mad Max sequels.
An interview with Hardy at Esquire says:
As for the pressure, Hardy says it's enormous. "I've never been more excited and out of my comfort zone." He's seen the film, and says it's "f***ing unbelievable". He's attached to a further three Mad Max films, though as he says, "Everything's based on figures and how things are perceived. Inevitably it's a business."
That's the same interview, by the way, where Hardy compared the movie to... well, just read it:
We were in the middle of nowhere, so far away from the studio system that [Warner Bros] can't really see what's going on, and just getting things to and from the set was a nightmare. We'd lose half a vehicle in sand and have to dig it out. It was just this unit in the middle of x-million square-kilometres of desert, and then this group of lunatics in leathers, like a really weird S&M party, or a Hell's Angels convention. It was like Cirque du Soleil meets f***ing Slipknot.
Those who have paid attention to the very long development path that brought Fury Road to the screen knows that writer/director George Miller has thought about doing more than one new Max film for a long time. Years ago, there was a report of two new movies: Fury Road, and Furiosa.
The latter title is also the name of the character played in Fury Road by Charlize Theron. The Esquire piece mentions reports that there was friction between Hardy and Theron, and we wonder if that has changed the plan for sequels. Maybe Furiosa could end up being a film that focused just on Theron's character, while other sequels keep Hardy in the lead as Max? We'll see what happens after Fury Road opens.