'The Prophet' Trailer Teases Salma Hayek's Animated Passion Project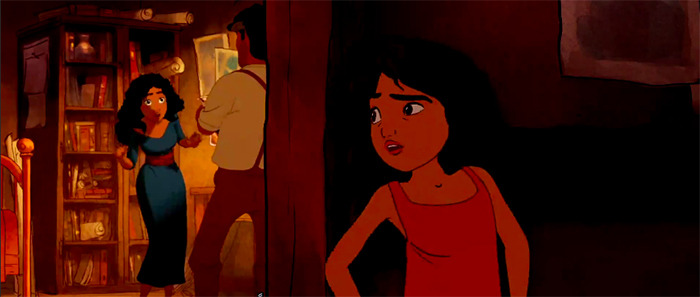 Salma Hayek produced and provides the voice for the animated version of Kahlil Gibran's book The Prophet, and the film's first trailer is now available. The book is a collection of poems and essays, and in keeping with that original structure the film is directed by a collection of directorial teams, to tell the story of "the unlikely friendship between a young mischievous girl and an imprisoned poet," with a voice cast that also includes Liam Neeson, Quvenzhané Wallis, John Krasinski, Frank Langella, Alfred Molina. Check out The Prophet trailer below.
When the trailer gets to the point of showing the variety of animation styles that are part of the film it really comes alive — even the animation of the core framing story looks excellent, but there are teases of some really beautiful moments from a number of the filmmakers who contributed to this adaptation.
GKIDS will release The Prophet on August 7. Trailer via YouTube. The directors include Roger Allers, Paul and Gaëtan Brizzi, Joan C. Gratz, Mohammed Saeed Harib, Tomm Moore, Nina Paley, Bill Plympton, Joann Sfar, and Michal Socha.
Inspired by the classic book by Kahlil Gibran, The Prophet is an animated feature film, with "chapters" from animation directors from around the world.