'Spy' Trailer: Melissa McCarthy Is A Woman On A Mission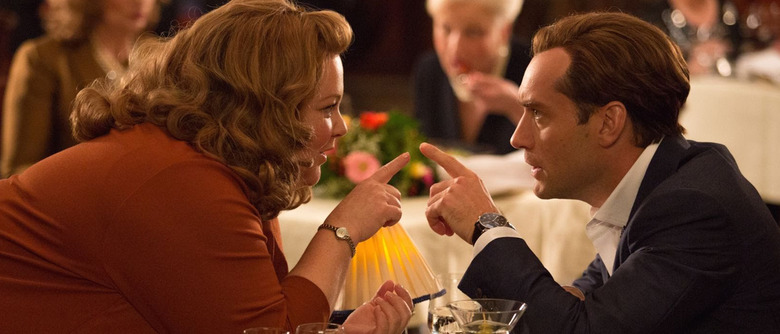 Melissa McCarthy is funny pretty much all of the time, but she's never better than when she's working with Paul Feig. Following the massive successes of Bridesmaids and The Heat, the pair are reuniting again this summer for the James Bond sendup Spy.
McCarthy plays Susan Cooper, a deskbound CIA analyst supporting the agency's suave star spy (Jude Law) on his missions, she never gets to have the glory. Until, that is, the usual James Bond types (including Jason Statham) are targeted by a villain (Rose Byrne) who claims to know all the identities of all the agents. With no other options, the CIA reluctantly promotes her to field agent.
Watch the new Spy trailer after the jump.
Fox unveiled the new Spy trailer on YouTube.
Spy had its world premiere at South by Southwest earlier this month, and by all accounts it brought the house down. Variety called it "the funniest, most versatile and sustained comic showcase of [McCarthy's] movie career," and Badass Digest gushed that McCarthy "is a bona fide badass."
But maybe that's to be expected, seeing as Feig always seems to know how to bring out the best in McCarthy. More surprising, perhaps, is all the praise for Statham. He's spent years building a resume as an over-the-top action hero, most recently in this weekend's Furious 7. Here, he puts all of that training to use parodying his own ultra-macho persona. According to ScreenCrush, he "steals scene after scene from McCarthy." Not bad for a guy no one knew was funny five minutes ago.
Spy opens June 5, 2015.
Susan Cooper is an unassuming, deskbound CIA analyst, and the unsung hero behind the Agency's most dangerous missions. But when her partner falls off the grid and another top agent is compromised, she volunteers to go deep undercover to infiltrate the world of a deadly arms dealer, and prevent a global disaster.