Helen Mirren Wants To Be In A 'Fast And Furious' Movie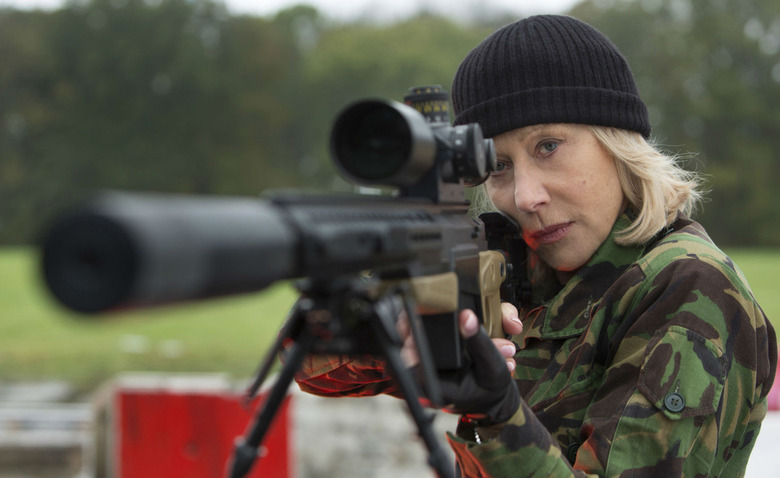 When Furious 7 opens this weekend, one big question fans will be asking is "How can the franchise possibly top the action in that?" Looking backwards, one of the ways Furious 7 ups the ante from Fast and Furious 6 is by casting bigger actors and better fighters. Kurt Russell, Jason Statham, Ronda Rousey and Tony Jaa are just a few of the new famous faces that join the cast for this latest installment in the mega action franchise. Adding marquee names is one way the Fast and Furious franchise can raise the bar again if and when an eighth film happens.
If that's the case, the talent is already lining up. Oscar-winner Helen Mirren has said she'd love to be in Fast and Furious 8. Read the Helen Mirren Fast and Furious quotes below. 
Mirren was talking to Yahoo Movies about her latest film, Woman in Gold, when the topic of big franchise films came up and she offered up this:
My great ambition is to be in a Fast and Furious movie. I so want to be a mad driver in a Fast and Furious movie. My claim to fame is I always do my own driving — I was on Top Gear, and I did [my lap] in a very good time. I keep putting it out there, and they never ask me. I'll be in Fast and Furious 8. I have to say Vin Diesel is brilliant. I love Vin Diesel. He's a great guy, smart — I love him. It's partly because of him I'd like to be in one, but also the driving. I'd also love to do another Red-type movie, because those are such fun to do.
I think Mirren would be amazing in a Fast and Furious movie. She could so easily be some kind of mysterious criminal mastermind or unassuming crazy stunt driver who gives Dom and his family a run for their money. She would have to be a villain though. Just has to be.
Do you think Helen Mirren could ever appear in a Fast and Furious film?