Star Wars Bits: J.J. Abrams Talks 'Force Awakens' Spoilers; Plus 'Dark Disciple,' Kylo Ren, Lego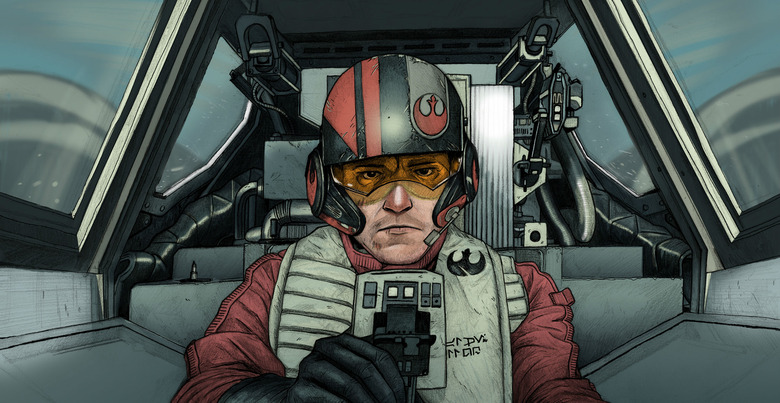 A new chapter in the Star Wars universe unfolds in this edition of Star Wars Bits. Below, read about the following:
J.J. Abrams commented on the intense scrutiny and spoilers surrounding Star Wars: The Force Awakens.
Read about some early concept art of Kylo Ren.
The synopsis of the canon Clone Wars book, Star Wars: Dark Disciple, is now out.
Find out how Poe Dameron and Finn fit into the opening of Star Wars: The Force Awakens.
The Star Wars Celebration schedule is coming soon.
Code names for the Force Awakens Lego sets.
Header image: ThomLSharp's Poe Dameron drawing via Reddit.
J.J. Abrams talked to Australian News about the lovely Infinitely Polar Bear (which opens there this week) and the conversation turned to Star Wars: The Force Awakens. Abrams is still cutting the movie and said this about spoilers:
The level of scrutiny is pretty much unprecedented for me. My dream is that, despite so many rumors — many of which are true, many of which are untrue — when people see the movie, they see something that hasn't been completely ruined for them by having read spoilers they might not have wanted to read.
Making Star Wars has a description of what they believe is a very early concept of Kylo Ren. No real spoilers there, but if you are keeping in the dark, it's probably best to avoid it.
Random House will release Star Wars: Dark Disciple on July 7. It takes place during The Clone Wars and is based on eight unproduced screenplays about Quinlan Vos and Asajj Ventress. Here's the description of the book:
Based on unproduced scripts from the blockbuster TV show Star Wars: The Clone Wars!
The only way to bring down the dark side's most dangerous warrior may be for Jedi and Sith to join forces.
In the war for control of the galaxy between the armies of the dark side and the Republic, former Jedi Master turned ruthless Sith Lord Count Dooku has grown ever more brutal in his tactics. Despite the powers of the Jedi and the military prowess of their clone army, the sheer number of fatalities is taking a terrible toll. And when Dooku orders the massacre of a flotilla of helpless refugees, the Jedi Council feels it has no choice but to take drastic action: targeting the man responsible for so many war atrocities, Count Dooku himself.
But the ever-elusive Dooku is dangerous prey for even the most skilled hunter. So the Council makes the bold decision to bring both sides of the Force's power to bear—pairing brash Jedi Knight Quinlan Vos with infamous one-time Sith acolyte Asajj Ventress. Though Jedi distrust for the cunning killer who once served at Dooku's side still runs deep, Ventress's hatred for her former master runs deeper. She's more than willing to lend her copious talents as a bounty hunter—and assassin—to Vos's quest.
Together, Ventress and Vos are the best hope for eliminating Dooku—as long as the emerging feelings between them don't compromise their mission. But Ventress is determined to have her retribution and at last let go of her dark Sith past. Balancing the complicated emotions she feels for Vos with the fury of her warrior's spirit, she resolves to claim victory on all fronts—a vow that will be mercilessly tested by her deadly enemy . . . and her own doubt
How does Poe Dameron fit into the opening of Star Wars: The Force Awakens and what is his relationship with Finn? Making Star Wars has pieced together a spoilery outline of how they think the film opens. (And there are more details here too.)
Mary Franklin, formerly of Lucasfilm and now of PopCon, is running Star Wars Celebration. She posted the below image on her Twitter and teased we'll get to see it soon.
Nine feet of awesome plus a few inches hanging in my office . @SW_Celebration #SWCA pic.twitter.com/NdHTFLneB1

— Mary Franklin (@MaryPOPCon) March 23, 2015
When we know what the names of the Star Wars: The Force Awakens Lego sets are, we're going to know a lot about the movie. Especially now that we have an idea of what each piece is. Making Star Wars posted these place holder names for each set.
75099- "Lead Hero Craft"- £19.99
75100- "Villain Craft"- £39.99
75101- "Villain Star Craft"- £59.99
75102- "Hero Starfighter"- £69.99
75103- "Villain Transport"- £79.99
75104- "Lead Villain Vehicle"- £99.99
75105- "Hero Vehicle"- £129.99