Exclusive: /Film Takes You Behind The Scenes Of A Jason Reitman Live Read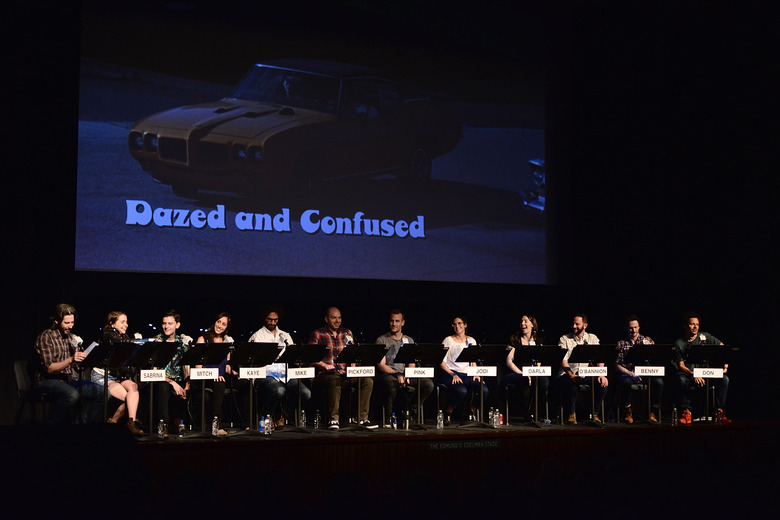 There are less than 24 hours until the big event and Captain America is out. The text comes in at 11:20 p.m. on Wednesday March 18. For the past two weeks, I've been talking regularly to writer/director Jason Reitman about the latest installment in his Live Read series, the ongoing set of performances at the Los Angeles County Museum of Art in which he assembles famous casts to read famous scripts from famous movies as a one-night only event. We've been covering them for a long time. For the final one of this season, I wanted to know how it was done.
This Live Read was to be Dazed and Confused by Richard Linklater, a sprawling coming of age film with a huge cast of characters, many of whom have become iconic for moviegoers. The most iconic is Wooderson, played by Matthew McConaughey. It's a small role, and one that Reitman thought he had cast months before the event.
Reitman was at the 87th Annual Academy Awards back in February representing Whiplash, a Best Picture nominee he produced. There he ran into Captain American actor Chris Evans and asked him if he wanted to read the role of Wooderson. Evans enthusiastically agreed and was on board... until less than 24 hours before the event, when he had to drop out. "He had a sincere personal reason to pull out," Reitman writes via text. "He's an incredibly decent and lovely guy." Nevertheless, Captain America has caused a bit of a problem.
Below, find out both how that turned out and the entire making of story behind the Jason Reitman Live Read of Richard Linklater's Dazed and Confused Live Read.
March 4, 2015 - 15 days until showtime: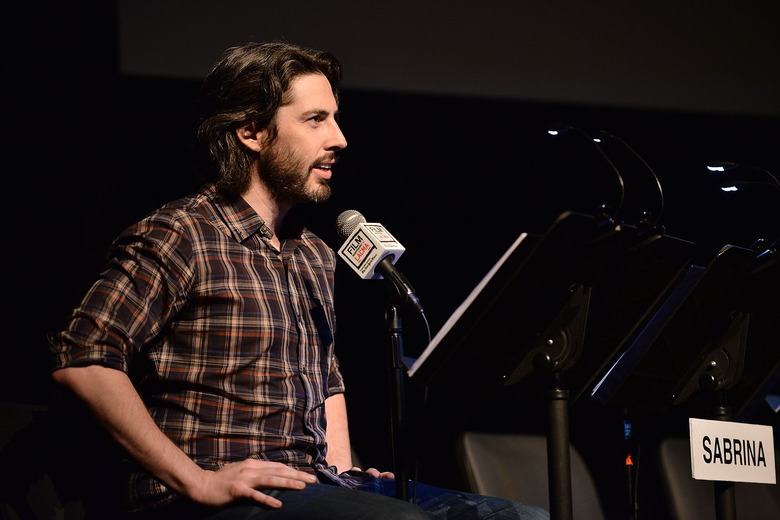 Jason Reitman is incredibly busy working on Casual, a TV show he's producing for Hulu, and for which he's directing the pilot. Because of that, the Live Read is not a priority at the moment. He does have that one big piece locked in, though: Chris Evans.
Having even that one piece set at this stage is more than Reitman has had at similar points for other reads. The Live Read, presented by Film Independent at LACMA, has been going on since October 2011. Nearly two dozen reads later, the director knows better than to worry just yet. He's going to spend the next few days sending emails and starting to pull in his cast.
March 9, 2015 - 10 days until showtime: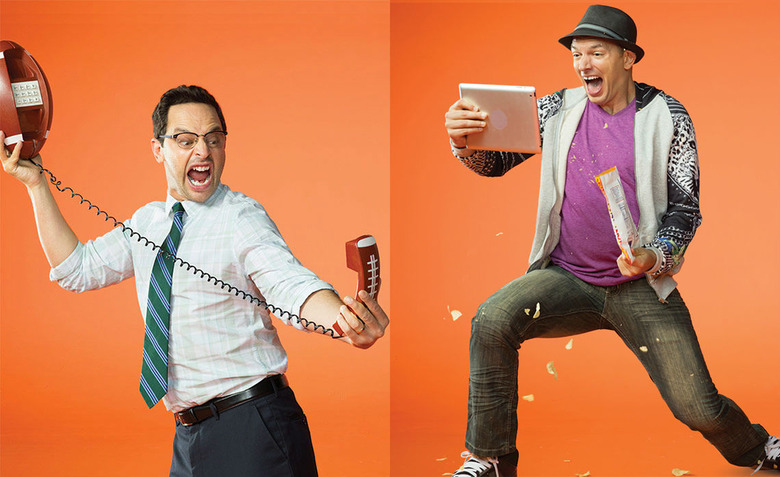 "I'm about 30% there." Reitman has locked in five more actors for the read: Eric Andre, Nick Kroll, Paul Scheer, Jason Mantzoukas and Mae Whitman. Each has done at least one Live Read in the past. While Reitman loves to bring in new people and feature some big surprises, he also knows these versatile actors who live in the area can do anything, even if the audience doesn't expect it. "There's always the ones you want to lock in who you think would be a perfect match," he says. "But by people being unavailable it forces you to stretch your mind and you end up coming up with really extreme ideas."
With the Casual pilot still a priority, Reitman has been chipping away at casting whenever he has a few minutes. He tried to get Bill Burr and Sarah Silverman for roles, but both were unavailable. Jay Baruchel and Olivia Wilde were unavailable, too, and he's waiting for a call back from an agent who represents three actors he's interested in. "If I know them it's easy," he says. "I just send an email. If I don't, I have to go through the agent. It's weird how many hours actually go into the casting. It seems like I just make a few calls and am like 'Let's do this' but it's weeks of actually putting it together." In this case, the agent will never call Reitman back.
Reitman also contacted Richard Linklater about the event. "I reached out to Richard and unfortunately he can't make it," Reitman said. "He's out there finishing the new movie in Austin so he not going to be able to make it out. But he knew exactly what the Read was, he was excited about it and he was bummed he couldn't go."
Unlike most Live Reads, at this point Reitman feels he's going to be a little more loose. "Usually I say 'I'm gonna cast this actor for this role, this actor for this role.' This is the first time I'm like, 'I'm putting together a great ensemble and then I'm going to figure it all out.'"
The conversation ends with Reitman looking more into the Ghostbusters news involving his father, Ivan Reitman. Jason has been so busy, he had no idea about it until I brought it up.
March 17, 2015 - Two days until showtime: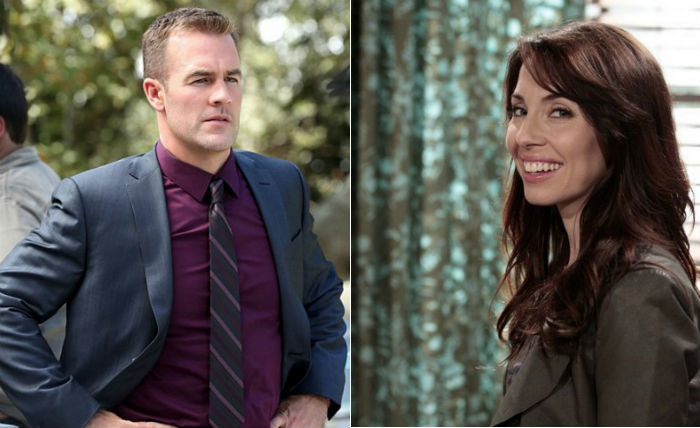 It's been over a week since we've talked. Calling from his car on his way home, Reitman apologizes. Things have been busy with the pilot but he's about to turn a lot more attention to the Live Read. That means he's got to re-watch the movie and cross reference it with the script he has. If there are any iconic moments from the movie that aren't in the script, he'll add them just for the audience. He also likes to see how different the original script is to the finished movie. The plan is to do this late into the evening once he gets home.
The cast is coming together, too. Whitney Cummings is in. It'll be her first live read. James Van Der Beek, who appeared in the first-ever Live Read of The Breakfast Club, is coming back. So is Mindy Kaling, and Jason's sister and actress, Catherine Reitman. Ellen Page was confirmed, but had to back out a few days later. (Kaling later dropped out as well.)
"Oddly, that's part of the fun of these events," Reitman says. "How you wind up here, two days before going, 'All right. Who is going to play what?' You're putting together an All-Star Team. 'We thought he was going to play center but now we have a bigger guy so we'll move him to power forward and move him to center.' It's about how they coalesce."
He still hasn't cast some of the younger roles, including the lead role of Mitch. For that part, he's leaning towards a young actor named Travis Tope who appeared in Reitman's last film, Men, Women and Children. And once the director has got him, things are pretty much ready to go.
That makes me wonder about what kind of prep or direction Reitman gives to his actors before the event.
I often tell them 'Don't watch the movie' because I don't want them to be imitating. It's more fun for everybody if they just go, 'Okay. What would I do if I got cast in this role?' This is what I generally say. 'One: pick up the pace. Don't make it slow, don't take your time here.' And two: 'Don't imitate. Imagine you were cast in this movie. What would you do? Because we're not interested in seeing you do an impersonation, we're interested in seeing how you act.'
March 18, 2015 - One day until showtime:
11:20 p.m. March 18, 2015 - 20 hours until showtime: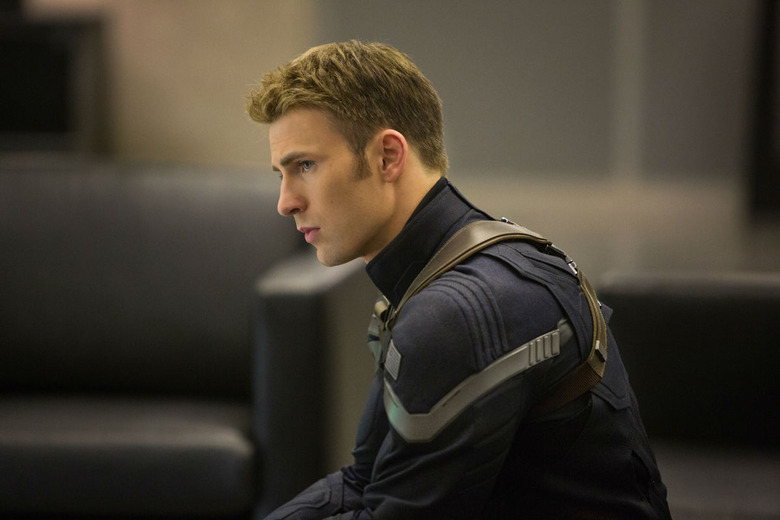 My phone buzzes. It's a text from Reitman.
"So it's 11:20 p.m. the night before. I lost Chris Evans a few hours ago. Still don't have O'Bannion. Calling friends and agents in the middle of the night while I try to finish prepping the script...we're in a nose dive and trying to pull up with less than 24 hours to go...You'd be amazed at how common this is for the Live Read"
11 a.m. March 19, 2015 - 8.5 hours until showtime:
My phone buzzes again:
"11 a.m. Still no solutions. Had to replace one of the actresses this morning. Things are getting tense. Give me a couple hours and I'll give you a full update."
4 p.m. March 19, 2015 - 3.5 hours until showtime:
"Michaela Watkins is in. Jonathan Tucker is in. Still no McConaughey. I keep on getting close but no dice. Apparently Mae Whitman does a good McConaughey."
That's the last I hear from Reitman before heading to the venue. The show starts at 7:30 p.m.
6:45 p.m. March 19, 2015 - 45 minutes until showtime: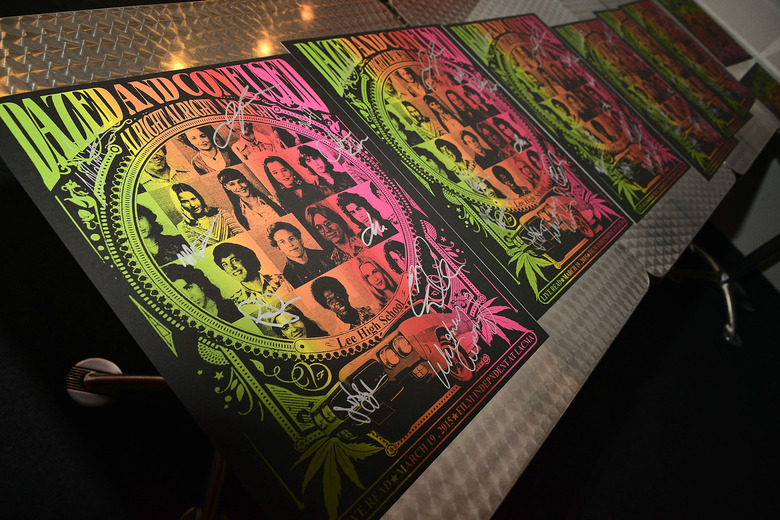 I'm escorted backstage by Jason's assistant, Erica. Whitney Cummings is the first person to arrive. She sits down and starts to read through the script. She's followed by Eric Andre, Paul Scheer and James Van Der Beek. These are all working actors; some know each other, others don't. They talk about being incredibly tired and, in some cases, incredibly unprepared. Most sit down, joke around, and flip through the script.
7:05 p.m. March 19, 2015 - 25 minutes until showtime:
The 600 seat theater is empty save for some friends, Reitman, Film Independent at LACMA curator Elvis Mitchell and a few other employees.  The director is trying to figure out who will sit where, shuffling the name tags like pieces of a jigsaw puzzle. Once he's happy, the cast comes in for soundcheck. Reitman goes into the middle of the theater and asks the actors to speak one by one. He tells the sound team to raise or lower the volume on each microphone as he sees fit.
Once that's done. Reitman talks to the cast, most of whom have done this before. The main point is that once Wooderson comes into the script, everyone should wait a beat so there's a surprise as to who is reading the role. It will, in fact, be Mae Whitman.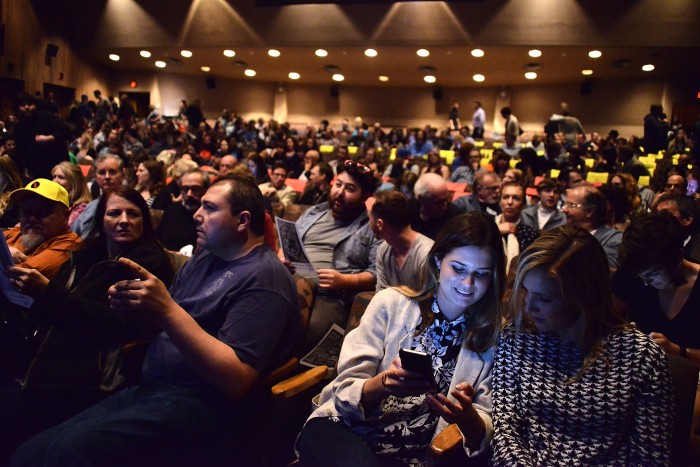 7:25 p.m. March 19, 2015 - 5 minutes until showtime:
Reitman and I chat as everyone walks back to the green room. He explains this was a close call, but it's been worse. In the past, actors have dropped out less than a few hours before the event, forcing him re-adjust the roles instead of recasting. He's happy with how this has turned out and feels like it's going to go well. He says goodbye as he has to run off to find a friend.
7:45 p.m. March 19, 2015 - 15 minutes past showtime:
In the green room, the group photo is about to be taken but Reitman is nowhere to be found. He rushes in and whispers to me, "They were about to open the house and realized I hadn't even done the music yet." He smiles as if to say "It's always something," then gathers his cast and takes a photo.
8 p.m. March 19, 2015 - 30 minutes late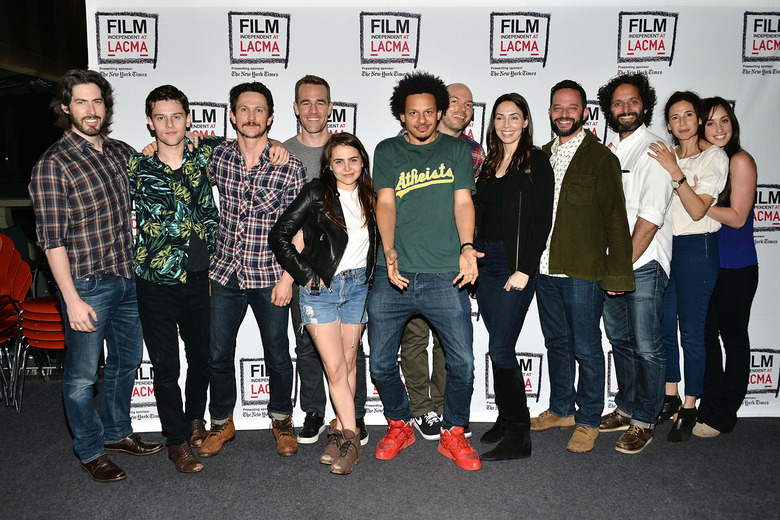 It's showtime. And to answer your question, yes, Reitman did try to get Matthew McConaughey himself to read the role of Wooderson. He was unavailable.
Read a full recap of the Jason Reitman Live read of Dazed and Confused here.
A huge thanks to Jason Reitman and everyone at Right of Way Films for the help with this article. Also, to Film Independent at LACMA for continuing to put on this great event.
Can't believe I won't see this again til October. Have a great summer Live Readers. pic.twitter.com/YvBUqtwExu

— Jason Reitman (@JasonReitman) March 20, 2015
Photo Credit: Various; Event images courtesy of Wireimage and Film Independent/Araya Diaz