'Paper Towns' Trailer: Cara Delevingne And Nat Wolff Go On An Adventure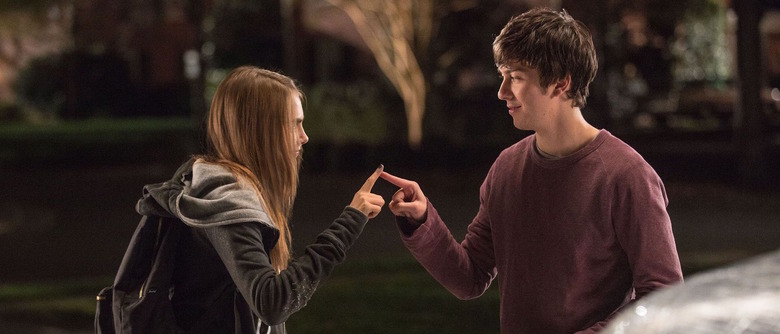 The Fault in Our Stars author John Green is back this summer with Paper Towns, a somewhat lighter tale of teen romance. Nat Wolff plays Quentin, an ordinary kid who carries a torch for his beautiful and mysterious next-door neighbor Margo, played by Cara Delevingne. But they haven't much spoken since childhood, so he's shocked when one night, she beckons him out on an adventure.
Then, things take a turn for the even weirder next morning when she vanishes, leaving a trail of clues for Quentin and his friends to follow. Watch the Paper Towns trailer after the jump. 
Fox debuted the first Paper Towns trailer on YouTube. The songs used, if you're wondering, are "To the Top" by Twin Shadows and "Smile" by Mikky Ekko.
Well, it's less of a tearjerker than The Fault in Our Stars – no one seems to have cancer – but the appeal is similar. Once again, it's the story of a teenager whose boring life is irrevocably changed by a quirky, adventurous, wildly romantic peer. The two films even share the same screenwriters, Scott Neustadter and Michael H. Weber. Their specialty seems to be young love, as they also wrote The Spectacular Now and (500) Days of Summer.
Paper Towns hits theaters July 24, 2015. Jake Schreier (Robot & Frank) directed.
Adapted from the bestselling novel by author John Green ("The Fault in Our Stars"), PAPER TOWNS is a coming-of-age story centering on Quentin and his enigmatic neighbor Margo, who loved mysteries so much she became one. After taking him on an all-night adventure through their hometown, Margo suddenly disappears — leaving behind cryptic clues for Quentin to decipher. The search leads Quentin and his quick-witted friends on an exhilarating adventure that is equal parts hilarious and moving. Ultimately, to track down Margo, Quentin must find a deeper understanding of true friendship — and true love.