'The Huntsman' Picks Up Three More Dwarves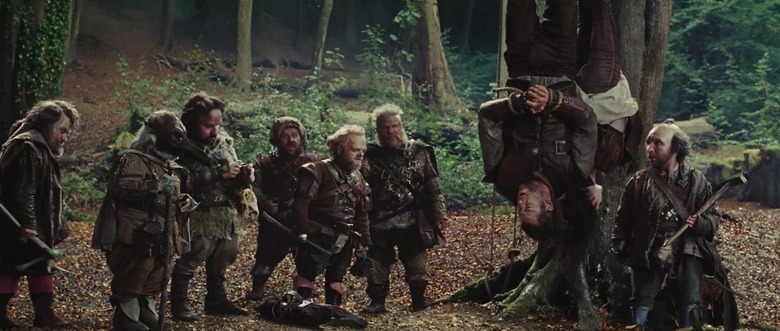 The Huntsman is getting an influx of dwarves. Rob Brydon, Alexandra Roach, and Sheridan Smith are joining the Snow White and the Huntsman prequel as three dwarves, along with returning cast member Nick Frost.
Also reprising their roles from the first film are Chris Hemsworth as Eric (the titular Huntsman) and Charlize Theron as Ravenna. In addition, Emily Blunt and Jessica Chastain have recently joined in key roles. More on the new Huntsman dwarves after the jump. 
There's been some question lately of how many, and which, dwarves from Snow White and the Huntsman might return for the prequel. The gang of seven was played in the original by Frost, Ian McShane, Bob Hoskins, Johnny Harris, Toby Jones, Eddie Marsan, Ray Winstone, and Brian Gleeson.
Frost is the only one of that group currently set to return, but this latest report from THR suggests he'll be surrounded by plenty of new friends. It's also interesting to see that the cast includes two female dwarves, a rarity in pop culture.
The Huntsman picks up with Eric and Ravenna long before they met Snow White. Eric embarks on a search for a magic mirror, which reawakens an enduring grudge between him and the Snow Queen (Blunt) — who happens to be the sister of Ravenna. Chastain's role has not been revealed.Cedric Nicolas-Troyan, who served as visual effects supervisor on the last film, makes his feature directing debut with the new one. Frank Darabont wrote the script and Craig Mazin and Evan Spiliotopoulos contributed earlier drafts. Joe Roth is producing and Palak Patel will executive produce.
Brydon was last seen in another live-action fairy tale adaptation, Disney's Cinderella. He also recently starred in The Trip to Italy, his and Steve Coogan's follow-up to The Trip. Next up for him is the HBO comedy The Brink.
Roach's credits include the Nick Frost comedy Cuban Fury, Testament of Youth, Anna Karenina, and The Iron Lady. Smith won a BAFTA Award in 2013 for the British series Mrs Biggs, and has appeared in Quartet and Hysteria.
The Huntsman opens April 22, 2016.