New 'Ex Machina' Trailer: Alex Garland Sympathizes With An Artificial Intelligence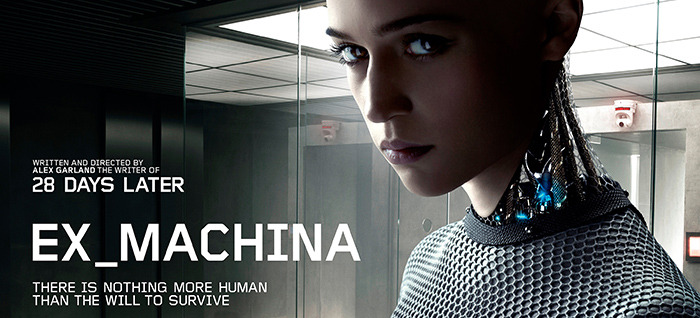 Ex Machina, the directorial debut from screenwriter and producer Alex Garland (Never Let Me Go, 28 Days Later, Sunshine, Dredd) may be the antidote for your original sci-fi blues. At least that's what the response in the film's run in the UK and other countries suggests, and what the very positive reviews out of SXSW seem to indicate. The film went over particularly well in its US debut at the festival last weekend.
Garland has crafted a film in which a programmer and a CEO, played by Domhnall Gleeson and Oscar Isaac test, and are tested by Ava (Alicia Vikander), a powerful artificial intelligence. The film sounds like the next step in an evolutionary ladder that goes from Frankenstein to Blade Runner, and you can see a new Ex Machina trailer below.  
Ex Machina opens on April 10. Trailer via A24.
Alex Garland, writer of 28 Days Later and Sunshine, makes his directorial debut with the stylish and cerebral thriller, EX MACHINA. Caleb Smith (Domhnall Gleeson), a programmer at an internet-search giant, wins a competition to spend a week at the private mountain estate of the company's brilliant and reclusive CEO, Nathan Bateman (Oscar Isaac). Upon his arrival, Caleb learns that Nathan has chosen him to be the human component in a Turing Test—charging him with evaluating the capabilities, and ultimately the consciousness, of Nathan's latest experiment in artificial intelligence. That experiment is Ava (Alicia Vikander), a breathtaking A.I. whose emotional intelligence proves more sophisticated––and more deceptive––than the two men could have imagined.