Watch: 'Iron Man' Star Robert Downey Jr. Delivers A Bionic Arm To An Adorable Kid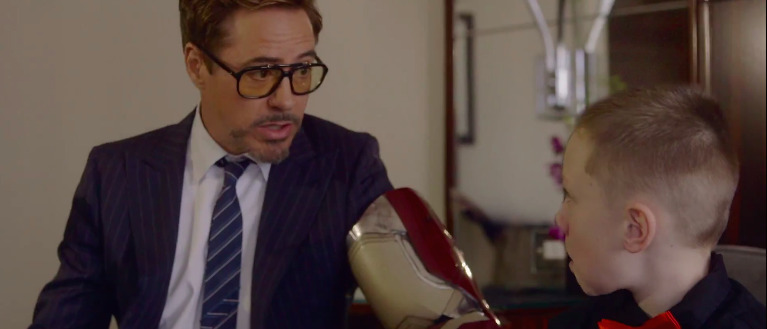 Robert Downey Jr. makes for a fantastic superhero on the big screen, but it turns out he makes for a pretty good real-life hero too. The Avengers star recently teamed up with engineering student Albert Manero to deliver a 3D-printed bionic limb to Alex Pring, a 7-year-old born with a partially developed right arm.
Yes, there is video of their encounter, and yes, it is exactly as adorable as you'd think it'd be. Watch the Iron Man bionic arm video after the jump. 
Alex can't help letting a giddy smile slip through, but overall he's remarkably composed considering he's just met freaking Iron Man. I'm pretty sure I'd be hyperventilating, and I'm old enough to be that kid's mom.
Downey reflected on the experience on Facebook.
Had the absolute privilege of presenting a brand spanking new 3D-printed bionic Iron Man arm to Alex, the most dapper 7-year-old I've ever met.
Special thanks to Albert Manero, OneNote, and #CollectiveProject for their work making artificial limbs like this more affordable for families with kids who want to show the playground how badass they are. Check out http://www.facebook.com/LimbitlessSolutions to learn more about this incredible project. #goodcause
But as Microsoft's OneNote jokingly points out, also on Facebook, Downey may have just put himself out of a job by helping this kid:
A huge thank you to Robert Downey Jr. for getting involved and helping raise awareness for the great work Limbitless Solutions is doing. Coming together like this is what the #CollectiveProject is all about. Robert, it looks like you might have some competition for your next movie.
You could argue that this is all a cynical PR move by Microsoft and Marvel, and you wouldn't be wrong, exactly. But if all cynical PR moves brought such genuine joy to real people, the world would be a better place.
And if the combined star power of Iron Man and Microsoft bring more attention to Manero, the video's real unsung hero, all the better. He's the mastermind behind this Collective Project, which provides 3D-printed bionic limbs to kids at no cost to the parents. You can learn more about his story here.