Latest 'Leatherface' Casting Reveals New Plot Details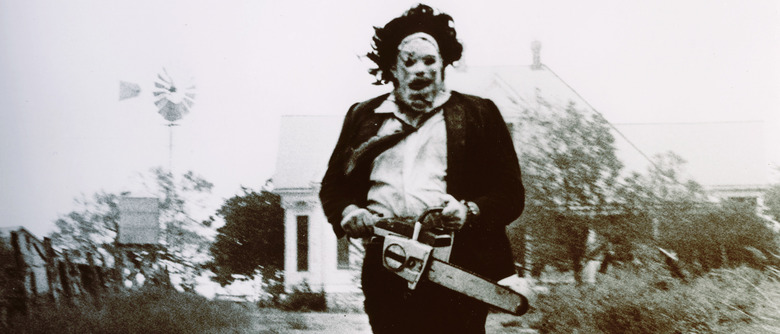 Apparently the path from teen psycho to Leatherface isn't quite as straightforward as we'd previously assumed. The Texas Chainsaw Massacre prequel has just cast James Bloor as a young maniac and Angela Bettis as the Sawyer family matriarch – and in the process, some new details about the plot have come to light.
Read the latest Leatherface casting and plot details after the jump. 
Earlier this week, we reported Sam Strike was playing the young Leatherface in the upcoming prequel. However, TheWrap now reveals the Texas Chainsaw Massacre prequel will actually be "presented as a mystery of sorts about three teenage psychopaths, one of whom grows up to be Leatherface."
Bloor is Ike, one of the possible Leatherfaces. Strike's character Jackson is another. That leaves one potential Leatherface remaining to be cast. We previously heard the plot would center around kids who break out of an institution. The trade additionally notes that the movie might show us the iconic killer at different stages of his life.
As for Bettis, Bloody Disgusting reports she'll play Verna, mother of the Sawyer family. The character was first introduced in 2013's Texas Chainsaw 3D, where she was portrayed by Marilyn Burns.
This suggests the Leatherface story will fit into the same continuity as Texas Chainsaw 3D, which was a direct sequel to the original 1974 Texas Chainsaw Massacre and thus ignored all the other sequels and reboots. In that version, Leatherface's real name is Jedediah Sawyer. So it's odd that neither of the new young male characters are named Jed, but perhaps that'll be explained in the film.
Bloor is an unknown whose only IMDb credits are a Hansel and Gretel short film and an upcoming indie drama called The Total Princess. Bettis is a horror veteran who has starred in May, Scar 3D, The Woman, The Woods, the 2002 Carrie remake, and the 2004 Toolbox Murders remake.
Leatherface is being directed by Julien Maury and Alexandre Bustillo, the French duo behind the gory cult hit Inside (or À l'intérieur in their native language). Seth M. Sherwood wrote the script. Carl Mazzocone, Christa Campbell, and Lati Grobman, all from Texas Chainsaw 3D, will produce along with Les Weldon.