'Roar' Trailer: One Of The Wildest Movies You'll See All Year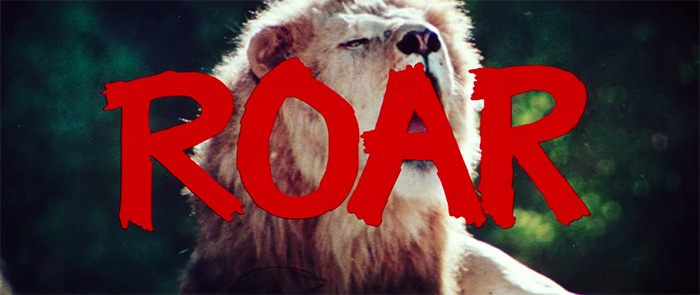 "No animals were harmed in the making of this movie. 70 members of the cast and crew were." That's the most eye-catching tagline we've seen in years, and it is for the movie Roar, originally released in 1981 and set to return to theaters via Drafthouse Films in April. The Roar trailer will give you a good first look at the movie, and probably make you wonder who was insane enough to make it.
If you spend time on the internet you've probably seen photos by now of young Melanie Griffith with the lion her family kept as a pet. In fact, that was one of many wild animals Tippi Hedren and her husband Noel Marshall kept over the years, and their interest in big cats fed directly into Marshall's film Roar.
The film features the whole family interacting with an incredible collection of animals, and that interaction didn't always go well. Cinematographer Jan de Bont (who later shot Die Hard and directed Speed and Twister) was scalped by a lion, and he was just one of many injuries during the 11-year production period. When released, the film was a disaster, and all but disappeared. Now it's back, and we're thankful and fascinated.
Roar will be in theaters in April. Trailer via Drafthouse Films.
An unprecedented––and wholly unpredictable––action-adventure, Roar follows wildlife preservationist Hank (The Exorcist producer Noel Marshall in his sole and career-derailing turn as an actor and director), who lives harmoniously alongside a menagerie of untamed animals, including cheetahs, elephants, lions and tigers on a preservation in the African plains. When his wife and children arrive (real-life wife Tippi Hedren, The Birds, and step-daughter Melanie Griffith, Working Girl) for a visit, a long-brewing battle for dominance between two lions erupts and threatens their very lives.