Gotham Casts 'Newsroom' Actor Chris Chalk As Lucius Fox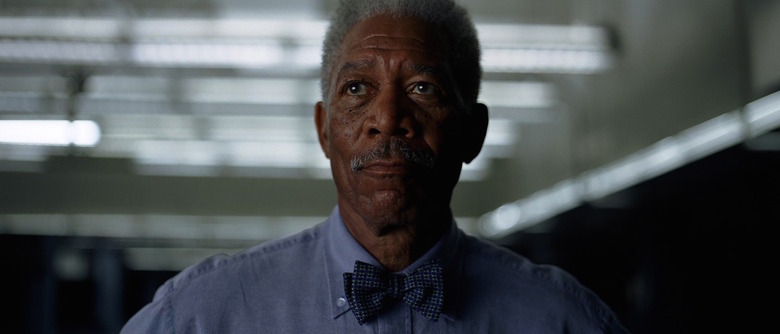 Finally, a spot of good news for the most villain-packed fictional city in American history. Wayne Enterprises tech expert Lucius Fox is set to debut on Fox's Gotham late this season, played by The Newsroom actor Chris Chalk. More on the Gotham Lucius Fox casting after the jump. 
According to Deadline, Chalk will make his first appearance as Lucius Fox on the second-to-last episode of the current first season, with an option to play a more central role in Season 2. The show is currently on a brief hiatus but will return for the final four episodes of its first season on April 13.
Lucius Fox is a key character in the Batman mythos. In the comics, he's a close confidant of Bruce's who takes over as Wayne Enterprises' president and CEO when Bruce becomes Batman. The character was portrayed in the Christopher Nolan movies by Morgan Freeman.
In Gotham, he'll be "a moral beacon for young Bruce Wayne" who bonds with Bruce over their determination to "uphold Thomas Wayne's legacy." Bruce could certainly use the help, considering Gotham City is practically drowning in future supervillains, run-of-the-mill criminals, and otherwise untrustworthy types.
Gotham has been very eager to draw from its source material. We've seen what feel like dozens of pre-villains parade through the show this season, some for just an episode and others as series regulars. But Fox sounds like he has the potential to shape Bruce into the strong hero we know he'll become, so hopefully he'll be sticking around. Someone needs to supply Bruce with those fancy Bat-gadgets, after all.
Chalk is a theater vet known for his recurring roles on HBO's The Newsroom (as Gary Cooper) and Showtime's Homeland (as Tom Walker). Additionally, he has guest-starred on FX's Sons of Anarchy and Justified. His big-screen projects include 12 Years a Slave, in which he played Solomon's fellow captive Clemens.