Valiant Gets Funding To Develop Marvel-Style Valiant Comics Movie Universe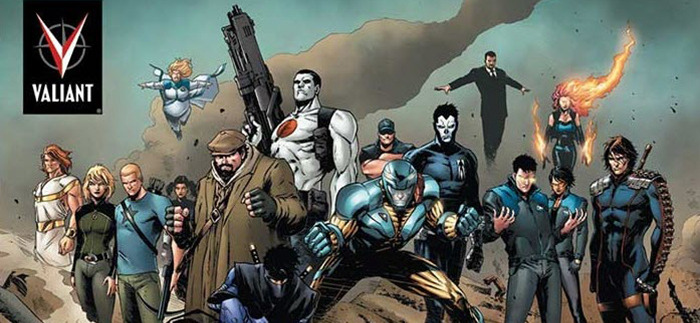 Before Marvel Studios was part of Disney, Marvel established a method of developing and packaging its own films in order to retain some control over the characters. Now Valiant Entertainment seems to be trying to do the same thing, by scoring a huge amount of investment capital from DMG Entertainment to develop a Valiant comics movie universe.
DMG has put eight figures worth of funding into Valiant "to further its efforts in international publishing, film, television, licensing and beyond." But that's not all. The press release announcing the deal also trumpets an additional nine-figure investment towards development of film and TV projects featuring Valiant characters such as Bloodshot, Shadowman, and Archer & Armstrong. The goal of the partnership between Valiant and DMG is significant, and they're not hiding it, as the announcement proclaims the creation of the "largest independent superhero universe."
Some of these have already been in development, as the press release notes:
BLOODSHOT from Sony Pictures in partnership with Original Film
SHADOWMAN in partnership with the Sean Daniel Company from a script by J. Michael Straczynski
ARCHER & ARMSTRONG, also with the Sean Daniel Company from a script by BenDavid Grabinski
In addition to all this development funding and an upcoming push for Valiant characters in the US, DMG, which is based in China, plans a huge Valiant-based licensing push in China to develop the market there for these characters.
Granted, we know nothing about how this will all work out — it depends in the end on the scripts, and the other creatives brought on board to help turn them into movies and TV. But money helps with that, and Valiant has a lot of it right now. The fact that these projects could end up at different studios might be an issue, but if Sony already has Bloodshot, perhaps it wants all of Valiant's stable.
Here's the release:
(New York, NY and Beijing, China, March 9, 2015) – Valiant Entertainment – the award-winning comic book publisher with a library of more than 2,000 characters, including X-O Manowar, Bloodshot, Harbinger, Shadowman, Archer & Armstrong, and more – and DMG Entertainment, the Beijing-based leader in global entertainment, today announced a new partnership to span motion pictures, television, publishing, and licensing that will culminate in the big screen debut of Valiant's universe of characters in theaters around the world. In conjunction with this new partnership, DMG has made an eight-figure (USD) series C round of equity investment into Valiant, which the company will use to further its efforts in international publishing, film, television, licensing and beyond. DMG has dedicated an additional nine-figures (USD) of film financing capital toward the production of theatrical films and television programs based on Valiant's library of iconic superhero characters. In total, the new agreement is the first deal of its kind brokered between an internationally based entertainment company and a leading independent publisher of comic books and graphic novels. Utilizing DMG's expertise in international film development, production, and distribution, Valiant will begin to establish its cinematic universe in the United States, China and beyond. Current Valiant feature films in development include the previously announced BLOODSHOT from Sony Pictures in partnership with Original Film; SHADOWMAN in partnership with the Sean Daniel Company from a script by J. Michael Straczynski; and ARCHER & ARMSTRONG, also with the Sean Daniel Company from a script by BenDavid Grabinski; among others. Valiant has also already begun development on several television projects. The unprecedented partnership between Valiant and DMG offers both companies the ability to develop and co-produce tent-pole theatrical films for distribution and release simultaneously in the United States, China – the world's fastest growing film market with more than $4.8 billion in box office receipts in 2014 – and the rest of the world. "Global markets, like China, offer the greatest opportunities for monetization from merchandising, licensing, as well as revenues from film and television properties. Comic superheroes are the most lucrative and sought after IP for movie franchises, so taking a stake in the last independent massive comic universe is a strategic investment for DMG that will produce movies and TV that are both appealing and relevant to a global audience," said DMG CEO Dan Mintz. "We are excited by the opportunity to bring these incredibly engaging characters and their stories to the big screen." Beyond film alone, DMG and Valiant will work in concert to form China-focused licensing partnerships for Valiant's stable of characters in areas such as Chinese language publishing, animation, online gaming, toys, apparel, live events, theme parks, and more, with a focus on bringing Valiant's iconic heroes to new audiences in China and Asia-Pacific. DMG Entertainment has a proven track record of introducing celebrated superheroes to the Chinese/international marketplace. In 2013, the Beijing-based studio and production company co-produced and co-financed Marvel Studios' IRON MAN 3 – the highest grossing foreign film of 2013 and sixth highest of all time in China­. DMG is currently co-producing high-octane thriller AUTOBAHN, starring Anthony Hopkins, Ben Kingsley, Felicity Jones and Nicholas Hoult; and the extreme actioner POINT BREAK, directed by Ericson Core; both films will hit screens worldwide in 2015. "Valiant's iconic stable of intellectual property and world class management team coupled with DMG's unmatched skill with entertainment brand building in China make a formidable partnership," said Valiant Chairman Peter Cuneo. "We will look forward to introducing some of the most popular superheroes of all time to the world's fastest growing market across all media forms." "Audiences in China and the rest of the world are hungry for heroic stories that they can more easily relate to...and with the international box office accounting for the biggest piece of the total gross, the time is right for a truly international superhero franchise. DMG will bring its unique global perspective to the task of transforming the Valiant Universe into the first international comic-movie universe," said DMG President Wu Bing. Celebrating its 25th anniversary in 2015, Valiant is one of the most successful comic book publishing companies in the history of the medium with more than 81 million comics sold and a library of more than 2,000 distinct characters. Established by a brain trust of legendary comics creators – including former Marvel Editor-in-Chief Jim Shooter; seminal Iron Man writer and artist, Bob Layton; and the visionary writer and illustrator of Wolverine: Weapon X, Barry Windsor-Smith – Valiant's heroes and villains inhabit the largest independently owned superhero universe anywhere in comics.  Re-established in 2005 as Valiant Entertainment with a best-in-class management team that includes Chairman Peter Cuneo, CEO & Chief Creative Officer Dinesh Shamdasani, COO & CFO Gavin Cuneo, President of Licensing, Promotions & Ad Sales Russell A. Brown, Publisher Fred Pierce and Vice Chairman Jason Kothari, the company returned to great commercial and critical success in 2012, winning a Diamond Gem Award for Publisher of the Year and numerous industry awards and accolades. To date, Valiant's titles consistently rate among the best reviewed in comics. "Today marks one of Valiant's biggest milestones yet with a huge step towards bringing the Valiant characters to the big screen and forging the foundation of the first truly international cinematic universe," said Valiant CEO & Chief Creative Officer Dinesh Shamdasani. "By bringing Valiant's biggest heroes to theaters around the world in concert with our new partners at DMG, we look forward to making Valiant not only an iconic name in comics, but global entertainment as well."