Science On Screen Program: Dig Into The Science Behind 'Raiders Of The Lost Ark', 'Space Jam' And More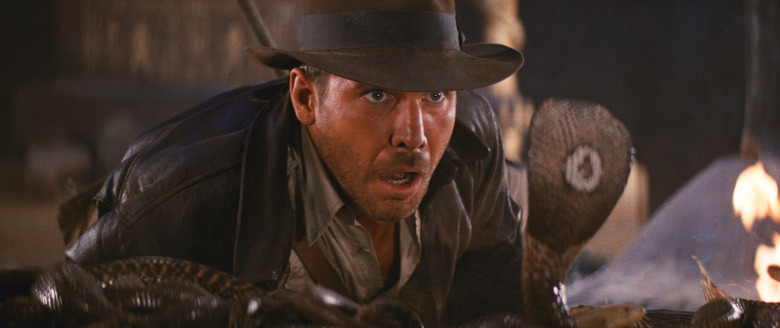 It's usually hard sci-fi pics like Interstellar or Gravity that spark scientific discussion, but in truth you can look at just about any film through a scientific lens. You could consider the cognitive science behind cons while watching American Hustle, or try to sort out archaeology fact from fiction while watching Raiders of the Lost Ark. And this year's Science on Screen encourages you to do just that.
The annual program pairs a movie with thematically linked lecture from a scientist, researcher, or professor. For example, this year Space Jam is paired with a talk about the physics of sports, while There Will Be Blood sets up a discussion about geology. Get all the details on Science on Screen, which takes place in a variety of cinemas around the US, after the jump. 
Hosted by the Coolidge Corner Theater and the Alfred P. Sloan Foundation, Science on Screen takes place Monday, March 16 in 22 independent cinemas across the country. It sounds like an entertaining way to learn something new — especially if, like me, you're many years removed from college and no longer have the luxury of going to interesting lectures by brilliant experts four times a week.
The films and lectures vary with each location; scroll down to see what's playing near you. Contact your local theater for showtimes and ticket info. All information below comes directly from the official press release.
Amherst Cinema — Amherst, MA amherstcinema.orgSouth: Ernest Shackleton and the Endurance Expedition (1919) — One of the greatest epics in the history of exploration, South is the original 1919 film chronicling Sir Ernest Shackleton's harrowing Imperial Trans-Antarctic Expedition. Before the film, Julie Brigham-Grette, Department of Geosciences, UMass Amherst, and Chair, Polar Research Board, National Academy of Sciences, explores the question: What makes a great leader, and how far will we follow one into dangerous circumstances?Athena Cinema — Athens, OH athenacinema.comAmerican Hustle (2013) — Loosely based on a true story, David O. Russell's acclaimed film stars Christian Bale and Amy Adams as two con artists who are forced by an FBI agent (Bradley Cooper) to set up an elaborate sting operation on corrupt politicians. After the film, Dr. Claudia Gonzalez-Vallejo, a member of the Cognitive Laboratory at Ohio University, discusses the cognitive science behind "the hustle."Belcourt Theatre — Nashville, TN belcourt.orgBrainstorm (1983) — In Douglas Trumbull's sci-fi cult classic, a team of scientists (including Christopher Walken and Natalie Wood, in her last film role) battle the military for control of a machine that records sensory experiences – including death. After the film, Randolph Blake, Centennial Professor and associate chair of psychology and professor of ophthalmology and visual sciences at Vanderbilt University, and other guests (TBA) will speak about the science of virtual reality, including an exploration of the new imaging techniques and technologies that are being used to reconstruct sensory experiences.California Film Institute/Smith Rafael Film Center — San Rafael, CA cafilm.orgDavid and Me (2014) — Forensic pathologist Dr. Judy Melinek will discuss her work in conjunction with a screening of the new documentary David and Me, directed by Ray Klonsky and Marc Lamy. The film centers on David McCallum, a convicted murderer who has spent 29 years in prison, and Ray Klonsky, a young man who joins a dedicated team of lawyers and activists convinced of David's innocence and who search for new evidence that will exonerate him.Capri Theatre — Montgomery, AL capritheatre.orgSoylent Green (1973) — In an overpopulated, polluted, and resource-depleted New York City of the future, a detective (Charlton Heston) uncovers a shocking secret about a mysterious synthetic food while investigating a murder. Before the film, Huntingdon College chemistry professor Dr. Maureen Murphy will discuss the nutritional value of people.Center for Contemporary Arts Santa Fe — Santa Fe, NM ccasantafe.orgYoung Frankenstein (1974) — Director Mel Brooks turns the Frankenstein legend into comic gold in this inspired horror film parody, starring Gene Wilder as the young neurosurgeon Frederick Frankenstein, who decides to continue his infamous grandfather's experiments in reanimating dead tissue. Santa Fe Institute Omidyar Fellow Eric Libby, a biologist specializing in evolution and cell mutations, will speak before the film.Cinema Arts Centre — Huntington, NY cinemaartscentre.orgThe Day After Tomorrow (2004) — In Roland Emmerich's special effects-laden blockbuster, a climatologist (Dennis Quaid) and his son (Jake Gyllenhaal) must battle for their lives after climate change triggers the onset of a new Ice Age. Alistair Rogers, Ph.D., Terrestrial Ecosystem Science and Technology (TEST) Group at Brookhaven National Laboratory, will discuss the latest findings on climate change.Civic Theatre of Allentown — Allentown, PA civictheatre.comGorillas in the Mist (1988) — Michael Apted's acclaimed film stars Sigourney Weaver as Dian Fossey, a scientist who came to Africa to study the vanishing mountain gorillas, and later fought to protect them. John A. Cigliano, Professor of Biology, Environmental Conservation Program, Cedar Crest College, will speak about how human activities, both good and bad, affect the conservation of gorillas and chimpanzees.Coolidge Corner Theatre — Brookline, MA coolidge.orgArsenic and Old Lace (1944) — Cary Grant stars in this dark comedy about a newly-married theater critic who discovers that his beloved spinster aunts have been poisoning lonely old men. Before the film, Pulitzer Prize-winning journalist and bestselling author Deborah Blum (The Poisoner's Handbook) will give an overview of arsenic's rich and colorful history, as well as its ongoing environmental ramifications.Dairy Center for the Arts — Boulder, CO thedairy.orgCocoon (1985) — In this Oscar-winning fantasy, a group of shut-ins at a rest home get a new lease on life when they're offered the gift of eternal youth by visiting aliens, led by Brian Dennehy. Dr. Douglas Seals, from the Department of Integrative Physiology at University of Colorado Boulder, speaks before the film about the science of aging.The Grand Cinema — Tacoma, WA grandcinema.comKon-Tiki (2012) — Based on a true story, this acclaimed Norwegian film follows the explorer Thor Heyerdal and his crew as they sail a fragile balsa wood raft along an ancient path some 4,300 miles across the Pacific. Before the film, Steve Fradkin, Coastal Ecologist with Olympic National Park, will discuss ocean currents and the floating debris that arrived on the Washington coast as a result of the Japanese tsunami.Indiana University Cinema — Bloomington, IN cinema.indiana.eduHard to Be a God (2013) — Maverick Russian director Aleksei German's final film is a science fiction epic that follows a team of scientists who travel to an Earth-like planet that is stuck in the Dark Ages, oppressed by a brutal religion. Indiana University Astronomy Professor Richard H. Durisen's discussion will explore the intersection of science and religion, the different views of how science and religion both conflict and merge to inform our world view, and how our perceptions of the value of science and religion evolve with time and differ from one society to another.The Little Theatre — Rochester, NY thelittle.orgThe Abyss (1989) — Filled with stunning special effects, director James Cameron's sci-fi epic The Abyss takes audiences on a spectacular odyssey 25,000 feet below the ocean's surface. Charles R. Fisher, professor of biology at Penn State, will speak about the deep sea world depicted in the film.The Loft Cinema — Tucson, AZ loftcinema.comRaiders of the Lost Ark (1981) — Steven Spielberg's blockbuster action-adventure films stars Harrison Ford as Indiana Jones, an archaeologist and adventurer who is hired by the US government to find the Ark of the Covenant. Archaeologist Dr. David Soren's introduction will address the realities of archaeological work versus what is depicted in the film.Maine Film Center — Waterville, ME railroadsquarecinema.comWalkabout (1971) — In this hypnotic masterpiece from Nicolas Roeg, two siblings who are abandoned in the harsh Australian outback must learn to cope in the natural world, without their usual comforts. David J. Strohl, Assistant Professor of Anthropology at Colby College, will discuss the effects of climate change in the outback and beyond.Media Arts Center San Diego — San Diego, CA mediaartscenter.orgEl ingeniero (The Engineer) (2012) — Israel Ticas, aka The Engineer, is the only criminologist using forensic anthropology in El Salvador, a country plagued by violent gang wars. Despite environmental obstacles and a large caseload, Ticas remains unwavering in his quest to bring victims to light, developing new identification techniques along the way. San Diego State University forensic anthropologist Dr. Arion Mayes will speak about the film.Michigan Theater — Ann Arbor, MI michtheater.orgSpace Jam (1996) — Featuring a blend of live action, animation, Michael Jordan, and Looney Tunes characters, Space Jam follows "The Tune Squad" as they challenge a group of aliens to a basketball game. After the film, University of Michigan physics professor Timothy Chupp will give an overview of the physics of sports, followed by a Q&A.Moxie Cinema — Springfield, MO moxiecinema.comThere Will Be Blood (2007) — Paul Thomas Anderson's sprawling epic of faith, family, oil and power features a monumental performance by Daniel Day-Lewis as ambitious prospector Daniel ("I drink your milkshake!") Plainview. Before the film, Missouri State University Professor Kevin Evans will give an overview of the geology behind what we see on screen.Real Art Ways — Hartford, CT realartways.orgFree the Mind (2012) — Phie Ambo's documentary follows renowned neurologist Richard Davidson as he studies the effects of teaching meditation and yoga to American war veterans and children. Before the film, David Vago, an associate psychologist in the Functional Neuroimaging Laboratory at Brigham and Women's Hospital, will explain how meditation can physically alter the structure of the brain, helping to relieve psychiatric disorders.Robinson Film Center — Shreveport, LA robinsonfilmcenter.orgParticle Fever (2013) — Physicist-turned-filmmaker Mark Levinson's riveting documentary follows six brilliant scientists during the launch of the Large Hadron Collider, built to recreate conditions that existed just moments after the Big Bang and to find the Higgs boson, the so-called "God particle". Lee Sawyer, Ph.D. in Physics, and department director of Chemistry and Physics at Louisiana Tech University, will give a talk on "How to Chat about Dark Matter, Supersymmetry and Particle Physics on Date Night.Roxie Theater — San Francisco, CA roxie.comSleep Dealer (2008) — After his family falls victim to a misguided drone attack, Memo, a young Mexican from Oaxaca, travels to Tijuana to join a new kind of migrant work force – one where the poor plug their nervous systems into a global electronic grid and control worker-robots in America from virtual sweatshops in their home countries. Before the film, J. Karl Hedrick, the James Marshall Wells Professor of Mechanical Engineering at the University of California at Berkeley, will give an overview of how unmanned aircraft systems work.The State Theatre of Modesto — Modesto, CA thestate.orgBabette's Feast (1987)— In this Oscar-winning classic, two devout sisters allow their cook, a French refugee, to prepare a feast in honor of their late father's 100th birthday, despite their spiritual concerns over the sensuality and decadence of French cuisine. Before the film, Ken Albala, Professor of History at the University of the Pacific and the author or editor of 21 books on food, will discuss the physiology of taste.