Watch Edward Snowden Documentary 'Citizenfour' In Full, For Free, Online [Updated]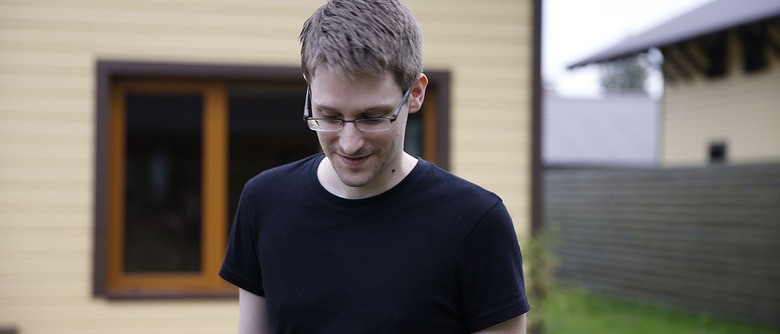 Laura Poitras' Citizenfour earned near unanimous praise when it opened, and even won the Best Documentary Feature Award at this year's Oscars. Beyond that, it's also been deemed capital-I important thanks to its by-the-moment coverage of Edward Snowden's massive NSA leak. It's the kind of movie that has critics and pundits imploring "everyone" to watch it.
But if you haven't gotten there quite yet, fear not. Citizenfour is now easier to watch than ever because it's streaming for free, in full, online.
Update: Sorry folks, but this was a pirated rip, albeit one dressed up to look better than most streaming piracy.Thought Maybe (h/t The Film Stage) has Citizenfour streaming online. The site describes itself as "an online library of films focused on topics challenging modern society, industrial civilisation, globalisation and dominant culture."
Update: HBO has confirmed that this is a bootleg stream, rather than an official one, so we've removed it.
My sources at HBO confirm that the free Citizenfour stream being posted around today is indeed an illegal bootleg.

— Christopher Campbell (@thefilmcynic) March 2, 2015
If you're not quite sold on Citizenfour, the trailer might help you make up your mind.
Citizenfour is also currently available on HBO Go, and should hit iTunes, VOD, Blu-ray, etc. in the not-too-distant future. But why wait when it's streaming legally and for free?
In January 2013, film-maker Laura Poitras received an encrypted e-mail from a stranger who called himself Citizen Four. In it, he offered her inside information about illegal wiretapping practices of the NSA and other intelligence agencies. Poitras had already been working for several years on a film about mass surveillance programs in the United States, and so in June 2013, she went to Hong Kong with her camera for the first meeting with the stranger, who identified himself as Edward Snowden. She was met there by investigative journalist Glenn Greenwald and The Guardian intelligence reporter Ewen MacAskill. Several other meetings followed. Citizenfour is based on the recordings from these meetings. What follows is the largest confirmations of mass surveillance using official documents themselves, the world has never seen...