Star Wars Bits: Intriguing 'Force Awakens' Rumors, Oscar Isaac, Posters, Rebels Concept Art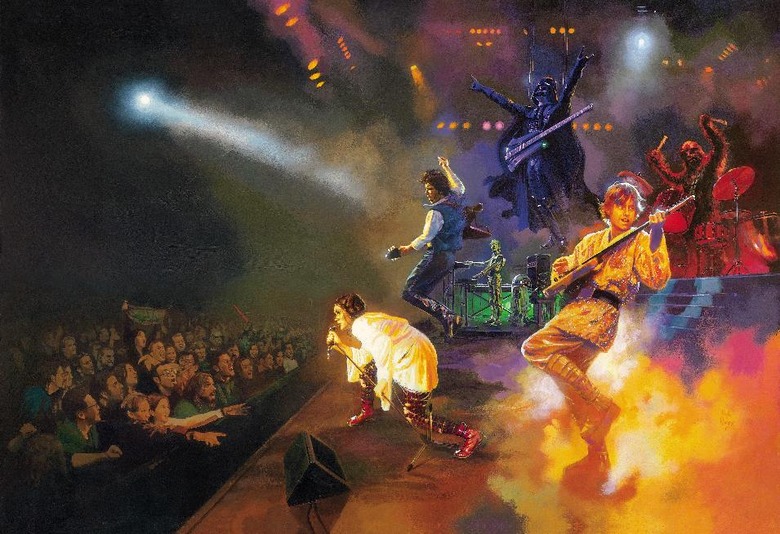 We may receive a commission on purchases made from links.
This edition of Star Wars Bits jumps all over the timeline. Below, read about the following:
Own the first ever autographed cast photo for Star Wars: The Force Awakens.
Oscar Isaac says he's "in the dark" about Star Wars: The Force Awakens.
Dave Filoni offers a fascinating look at the development of Star Wars Rebels
See some images from a new Star Wars poster book.
Read an excerpt from Star Wars: Heir to the Jedi.
What locations does the Millennium Falcon show up at in The Force Awakens?
A fascinating, new rumor has surfaced about Luke Skywalker's role in The Force Awakens.
Adam Driver is offering up an amazing collectible for charity. The actor and star of Star Wars: The Force Awakens got almost the full cast of the film to sign the iconic first image of the table read for the film, and you can bid on it via IfOnly.com. Here's an image of the collectible. Head there to read more. (Thanks to TheForce.net).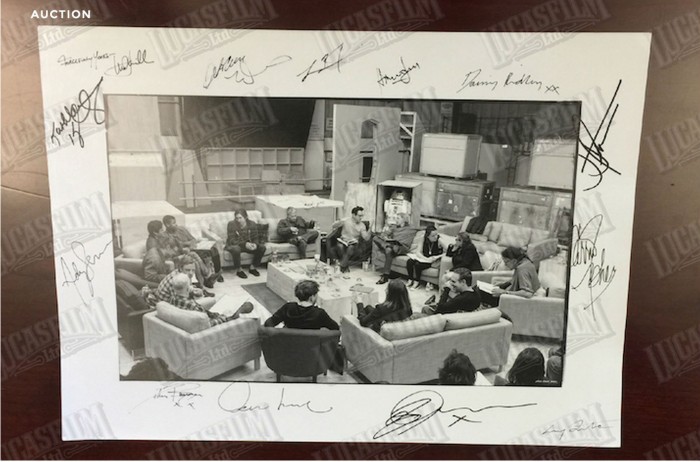 From all we've heard about Oscar Isaac's character in Star Wars: The Force Awakens, Poe Dameron, he's pretty important. Which makes this latest quote pretty odd. Time Out Dubai (via SW Underworld) asked the actor if he knew the film's plot and he said this:
No. I'm just as in the dark as everyone else as to how it will all come together. But I do know it will come together beautifully. [Director] J.J. Abrams has so much passion and love for the story. I can't wait to see more of it. That trailer was incredible. Just like the rest of the world I was floored by it.
I think he means he's "in the dark" about what everything will look and feel like together, because he certainly has an idea of what happens in the movie. He's in the movie! Still, pretty curious.
The first season of Star Wars Rebels is coming to a close and one of the show's producers, Dave Filoni, has opened up to StarWars.com about the process. He's done a massive interview about the show's development which you can read at this link. It includes some awesome concept art both by Filoni himself and Ralph McQuarrie, which have influenced the show. Here are just two examples:
Yahoo Movies has some images from a brand new book called Star Wars Art: A Poster Collection, which will be out next week. You can learn more about the book here, but below are just two of the posters. An older one by Hugh Fleming and a new one by Phantom City Creative.
The Star Wars Books Facebook page posted a nice, juicy excerpt from Heir to the Jedi, a new Star Wars novel by Kevin Hearne which is told in the first person of Luke Skywalker. It comes out on March 3. Read the excerpt at that link.
We're about to get into potential spoilers for The Force Awakens so, if you don't want to read anything, leave after this beautiful little comic by Dan Hipp:
You were right about me. pic.twitter.com/Z4JdyF5I9g

— Dan Hipp (@MISTERHIPP) February 26, 2015
Making Star Wars is reporting they know all of the locations the Millennium Falcon goes to in The Force Awakens. There are reportedly a lot of them and, in the list, you kind of get an idea of the whole structure of the movie. That is – if this is true. We don't know for sure. Click here for the info and potential spoilers.
Rumors have also been swirling recently about Luke Skywalker in The Force Awakens. There have also been rumors about the structure and timeline of the film. Well, this latest one combines those in a very interesting way. Beware of potential spoilers.
Making Star Wars reports actor Robert Boulter could be playing a young Luke in the film. How young? Not like a baby. We're talking post Jedi, but pre-this movie, in a flashback sequence. For more on what might take place in that sequence, click here. This is a very interesting development both in what The Force Awakens is, and what Luke has been up to.