Sex Criminals TV Series: Matt Fraction Adapting Comic For Universal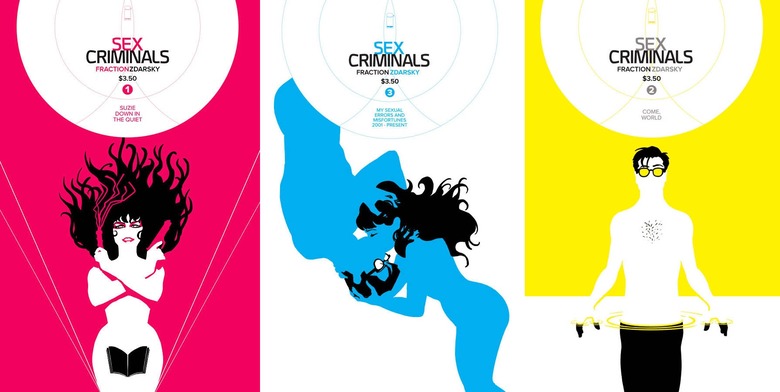 We may receive a commission on purchases made from links.
One of my current favorite comic book writers is Matt Fraction, and his Sex Criminals is one of my favorite on-going comic book series of the moment. I once half seriously joked on Twitter that David Fincher should direct the live action adaptation based on a screenplay adaptation from Chuck Palahniuk and John August. Now my dream version probably won't ever happen, but Universal has signed Fraction and his collaborator/wife Kelly Sue DeConnick to a two-year television deal to develop comic book properties for the small screen. The first of which is, yes, Fraction and artist Chip Zdarsky's Image Comics series Sex Criminals. Find out more about their deal and the Sex Criminals tv series, after the jump.
The news comes via Deadline, who says the married duo also "plan to use their Milkfed Criminal Masterminds production company as a TV launchpad for other comic creators' IP." No word on which comic series that may include, but lets hope its more Image Comics properties.
Sex Criminals TV Series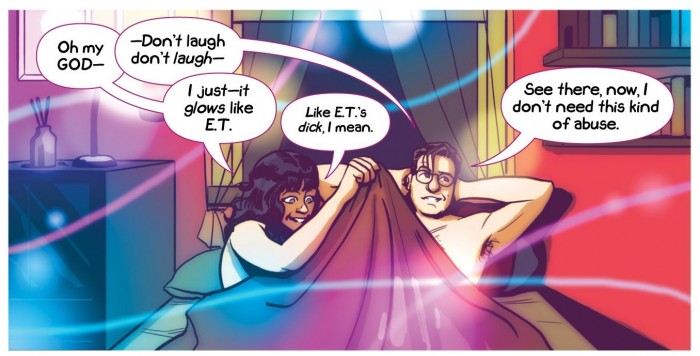 But lets get back to Sex Criminals, because, well — you should be reading it right now and I need to convince you of that. The series was named the best comic of the year in 2013 by Time Magazine, and the series was nominated for two Eisner Awards in 2014 including Best Continuing Series and won Best New Series. Here is the official plot synopsis from the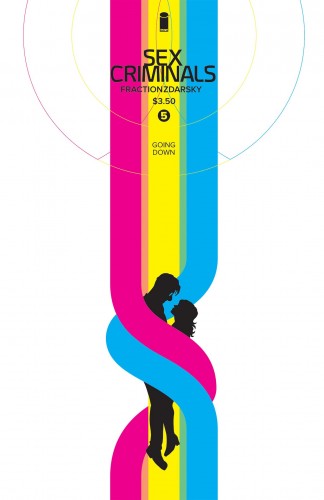 back of the first issue:
"A SEX COMEDY FOR COMICS Suzie's a normal girl with an extraordinary ability: when she has sex, she stops time. One night she meets John... who has the same gift. And so they do what any other sex-having, time-stopping, couple would do: they rob banks. In the vein of THE 40-YEAR OLD VIRGIN and BRIDESMAIDS, Image Comics invites you to come along with MATT FRACTION (Hawkeye, SATELLITE SAM) and CHIP ZDARSKY (Prison Funnies, Monster Cops) for the series that puts the 'comic' back in 'comics' and the 'sexy' back in 'sex crimes.'"
Okay, so I know the logline won't sell all of you, it may just seem weird — two people who can stop time using sex and rob banks, but the book is much more than that. The comedy tone and pure honesty underlying the fantasticalness of the story will have you coming back every issue. You can buy the first trade paperback for really cheap on Amazon.
As much as I first imagined the adaptation as a feature film, I'm very excited about the prospect of a Sex Criminals tv series because the story is one adventure which keeps unfolding in serialized television fashion.
Universal Television has usually developed shows for NBC (also owned by Universal), but a few of their shows have aired on other networks (The Mindy Project and Brooklyn Nine-Nine on Fox and Bates Motel on A&E). I wish the Sex Criminals tv series could appear on a premium cable channel like HBO or Showtime, but it will more likely end up on a basic cable network like AMC. Lets just hope it doesn't end up on network television because airing on NBC would be death to a story of this substance.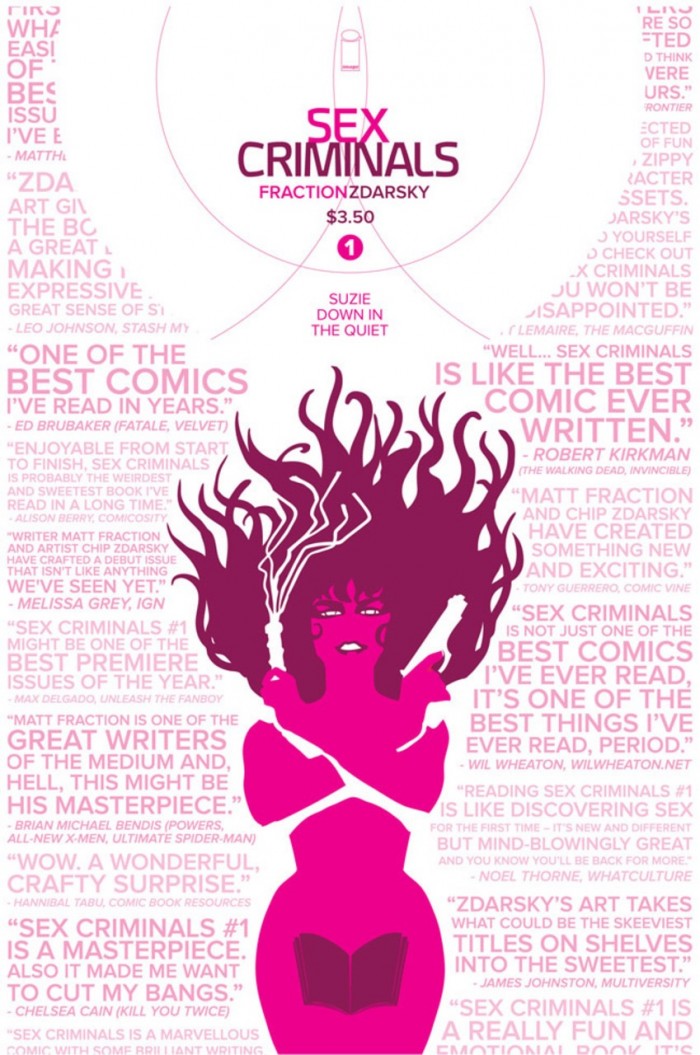 Update: Matt Fraction wrote about the deal on his and Kelly Sue McConnick's mailing list. The following is a transcript of the message:
So, big news:
Milkfed Criminal Masterminds — aka Kelly Sue & me — entered into a two-year "overall deal"( with Universal TV, with SEX CRIMINALS (co-created with Chip Zdarsky) as one part of that deal.
Deadline.com put that lovely announcement up this morning, but unfortunately the names of our co-creators were largely omitted in the piece. We've reached out and requested corrections, but in the meantime, know that the we co-create with Emma Ríos, Gabriel Bá, Fábio Moon, Christian Ward, Howard Chaykin, Steven Sanders, Kieron Dwyer, and Val De Landro and cannot conceive of our work without them. (TV folks just don't quite understand how comics work yet is all, and we were not given the opportunity to see the piece before it went up.)
So. Anyway. EXCITEMENT.
We can also now OFFICIALLY welcome Lauren Sankovitch and Kit Cox to the fold. Sankovitch, formerly of Marvel and Muse Entertainment, comes on as our Managing Editor and Cox, whose business card reads "Lieutenant Trouble" is handling administrative duties. Wish them luck. (Kel made Kit listen to the Xanadu soundtrack yesterday. She is in the shit.)
(Milkfed's housemother, majordomo and first non-Kelly Sue or Matt employee, Wendy Klein, is out of the office this week undergoing minor surgery. We'd appreciate your good thoughts for her and we're sad she's not here to celebrate with us today.)