Ben Hardy Joins 'X-Men: Apocalypse'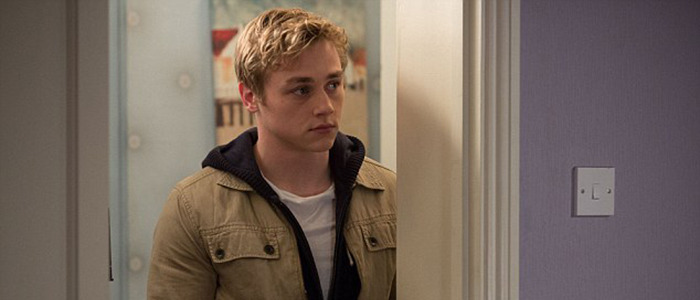 Bryan Singer is building out his cast for X-Men: Apocalypse, and he's just pulled an Eastender into the fold. Ben Hardy, known for a role on the long-running BBC show Eastenders, for which he has done nearly 200 episodes, has just landed in the cast. At this point, his role is a mystery.The Wrap reports, but there is no info on Hardy's role right now. All we've got, from Variety, is that "sources say the part is significant to the "X-Men" universe." That's Hardy above, as he appears in Eastenders, and based on his look you can start to guess the character he might play. More on that in a minute.
We know that a significant set of actors will return to roles originated in previous films: James McAvoy, Jennifer Lawrence, Michael Fassbender, Nicholas Hoult, Evan Peters, and Rose Byrne will all be seen again. (Playing, respectively, Charles Xavier, Mystique, Magneto, Beast, Quicksilver, and Moira MacTaggert.)
Additionally, Oscar Isaac will play the title villain Apocalypse, and Sophie Turner, Tye Sheridan, Alexandra Shipp, and Kodi Smit-McPhee are also signing on to play, respectively, Jean Grey, Cyclops, Storm, and Nightcrawler.
Given that lineup, you'd probably guess that Ben Hardy would play Warren Worthington III, aka Angel. He's part of the original X-Men lineup along with Cyclops and Jean Grey, and was part of a reformed version of that team, dubbed X-Factor. That comic series provided the debut of Apocalypse. Additionally, Angel is a character with a very specific relationship to Apocalypse in comic book stories.
Ben Foster played Angel in X-Men: The Last Stand, but the Days of Future Past continuity wipe allows the character to be presented anew from this point forward.
The Wrap, however, specifies that despite being rumored for Angel (for obvious reasons — he's got the perfect look) Hardy will play someone else, and that "insiders say he has been cast in another important role that is being kept under wraps." I've seen people mentioning other characters like Longshot and Captain Britain as options, but both of those seem like less likely choices given what we know about this story. (Which, admittedly, isn't much.)
Bryan Singer is directing from a script by Simon Kinberg, Dan Harris, and Michael Dougherty. We know the film takes place in the early '80s, that it will detail the origins of mutants, and that it caps off a loose trilogy that began with First Class and continued with Days of Future Past.
X-Men: Apocalypse opens on May 27, 2016.