Steven Spielberg May Direct Chris Pratt In 'Indiana Jones' Reboot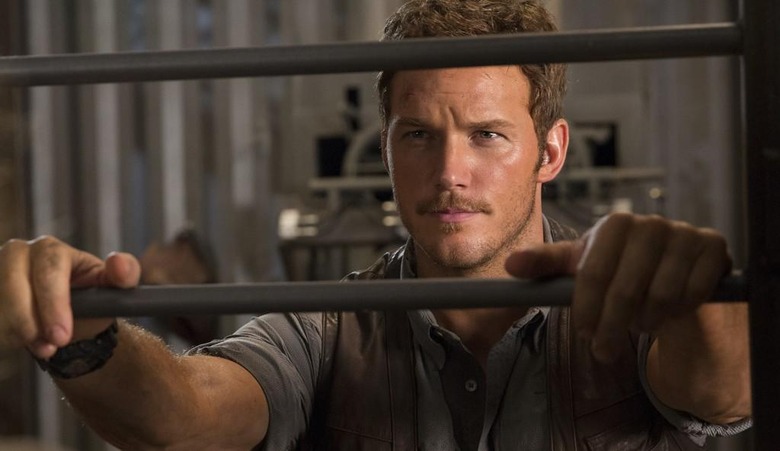 We've heard that Chris Pratt is the frontrunner to play a new version of Indiana Jones. Now, despite the fact that Pratt is not actually signed for the film, there's word that Steven Spielberg wants to direct him in the Indiana Jones reboot, so long as the script turns out well.
Deadline has the first report. It's a good headline, but there's really not much to the story because there's no script, and there isn't likely to be much of a dealmaking process until something is written. We don't know who will write that script (or who is working on it right now) and until a draft is in there probably won't be a commitment from Spielberg. We've also heard that Disney was looking into the idea of other directors taking on the franchise, though we don't have names to report. Clearly, however, interest from Spielberg could trump anyone else.
Deadline does note that Chris Pratt's gig in Jurassic World (pictured above) was directly due to Spielberg's influence. How much effect that has on Indiana Jones remains to be seen.
Pratt certainly looks the part, and based on his work in Guardians of the Galaxy we can see him playing a new version of Jones, no problem. And hopefully the push to balance practical and CG effects that we've seen in films like The Force Awakens and Jurassic World will also be reflected in a new Indiana Jones movie. Actually, we can pretty much point to the last Indy film, Indiana Jones and the Kingdom of the Crystal Skull, which was heavy with overt CG effects, as an example of everything we don't want to see in the reboot.
And while Indy co-creator George Lucas seems to be basically retired from working on big films, we don't know for certain that he'll stay on the sidelines for a new Indiana Jones movie. His involvement or lack thereof could have a lot to do with how this project proceeds.
Given Steven Spielberg's schedule, if he does end up signing to direct, the earliest he could have time to shoot the film is late 2016, with an early 2017 shoot more likely.