Star Wars Bits: The Opening Of 'The Force Awakens' Plus Legos, Comics And Fan Trailers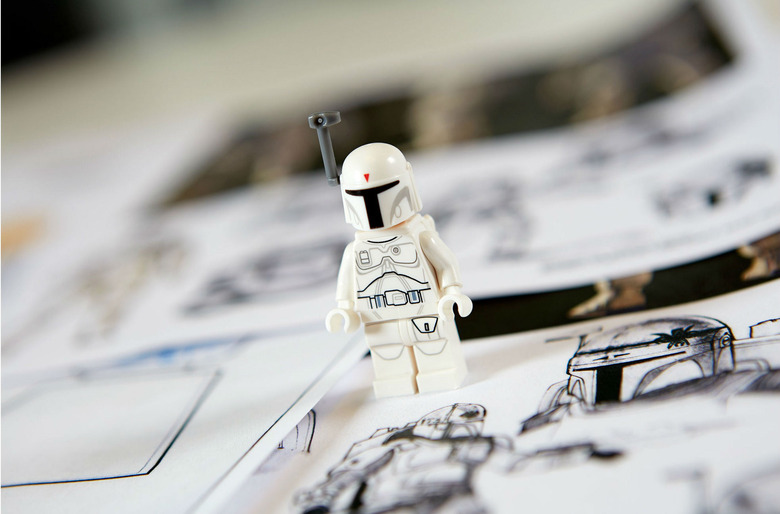 We start at the beginning of The Force Awakens and end in a bigger fantasy world in this edition of Star Wars Bits. Below, read about the following:
A possible description of the first several scenes in Star Wars: The Force Awakens is now online.
See the poster for Star Wars Weekends 2015.
Read about a Kickstarter that promises to be "the ultimate Star Wars fan film."
Gary Whitta kind of talked about his role on the Star Wars standalone.
The writer of the new Darth Vader comic book offers some insight.
All of the Star Wars: The Force Awakens toys revealed at Toy Fair were strikingly familiar.
The Art of Episode VII book is reportedly coming out November 2.
Which character is missing from the cover of Princess Leia #1?
See images from the LEGO Star Wars Character Encyclopedia: Updated and Expanded
Watch a Jedi and a Sith argue over the cross guard lightsaber in The Force Awakens.
A trailer for the Star Wars Trilogy edited in the style of Avengers: Age of Ultron.
Captain Kirk takes on Darth Vader in a Star Wars vs. Star Trek fan trailer.
Making Star Wars has been a major source of information on the plot – or more specifically the rumored plot – of Star Wars: The Force Awakens. Earlier this week they ran a super, major spoiler that knowing will ruin your enjoyment of the film. We don't link to that one (but it's out there). Instead, we want to point you to almost the opposite post.
Their source has given them a good idea of how Star Wars: The Force Awakens beings. Now, if this is true (and it sounds very similar to rumors that have been going around) it is also a spoiler, but it's much less of a spoiler because it's the beginning of the movie, not the end. Reading this gave me chills and an idea of what to expect on December 18. We don't know if it's true but, either way, don't read unless you are okay with spoilers. If you are, I highly recommend it.
Star Wars Weekends 2015 are coming to Walt Disney World in Florida and StarWars.com revealed the official poster.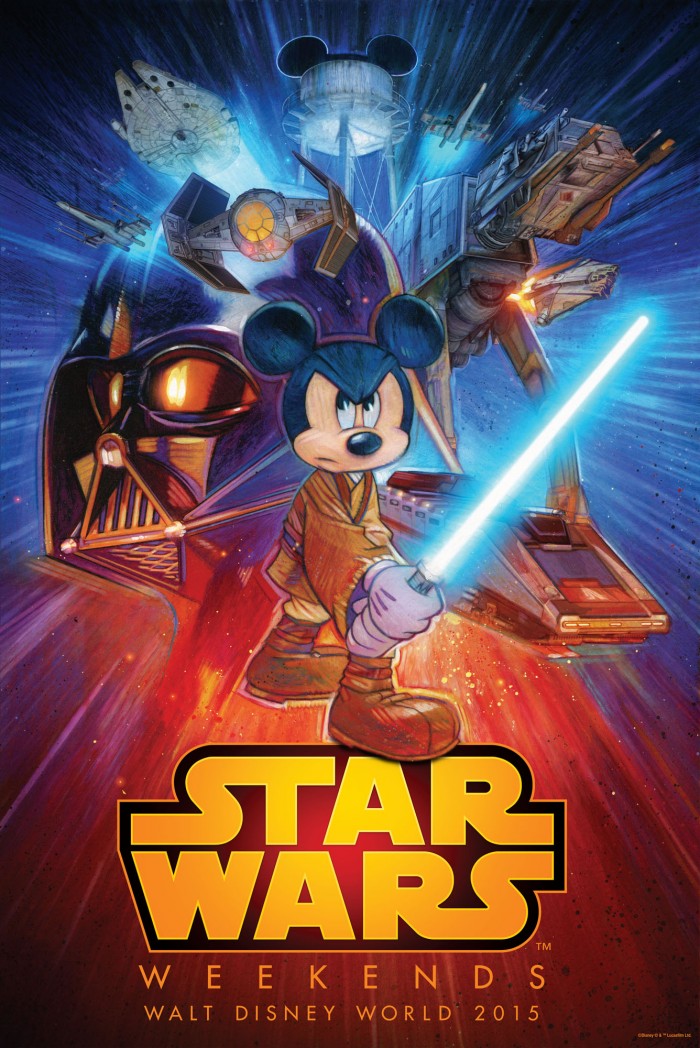 A Kickstarter has been bought to our attention for a film called Rise of the Empire. Directed by Richard Lowry, it promised to be "the ultimate Star Wars fan film." The pedigree is solid and idea is good too. They want a pretty high production value so the goal is expensive but hopefully, it'll be worth it. Head here to read more.
Gary Whitta is promoting his debut book, Abomination, and has of course been asked about the Star Wars standalone which he wrote the first draft for. We'll have our interview with him soon but, for now, here's what he said about it to Yahoo Movies:
It was absolutely surreal. I loved every minute of it. Star Wars was undoubtedly one of the most important formative influences on me as a child. It's absolutely one of the main reasons why I became a writer and pursued a career in film, so to have had an opportunity to contribute something to the next chapter of its on-going legacy is just insane. I feel incredibly privileged to have worked on it.
Comic Book Resources has a fascinating interview with Kieron Gillen, the writer of the new Marvel Star Wars comic book series Darth Vader. How do you make an evil, iconic character whose fate we know the star of a story? Find out in that interview.Inside the Magic has a funny article that's called "Star Wars: The Force Awakens toys at New York Toy Fair 2015 all looked strikingly similar." The joke is, nothing was revealed, instead it was empty boxes with the Force Awakens logo on it. Check out the images at the site.JediNews noticed that a few Amazon sites are listing The Art of Star Wars Episode VII: The Force Awakens for release on November 2. This is notable only because that book will pretty much be the ultimate opening of Pandora's Box in terms of spoilers. Even more than the toys in September.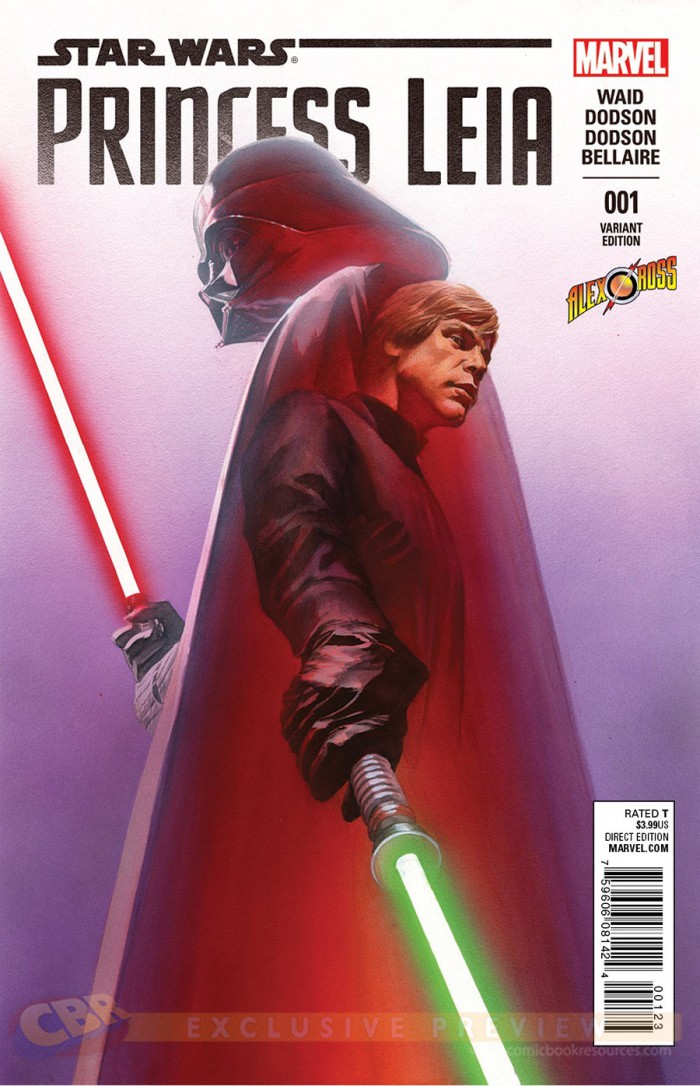 IO9 has an interesting article about Alex Ross's variant cover for Princess Leia #1, seen above and revealed by Comic Book Resources. Notice something? Princess Leia isn't on it.StarWars.com has a write up on the LEGO Star Wars Character Encyclopedia: Updated and Expanded,  which will be released on April 28. That's cool alone but they also put up some photos of the exclusive white prototype Boba Fett minifigure that'll come with the set. Here are the photos, head to the link for more.
The comedy team, The Warp Zone, did this great sketch showing what happens when a Jedi and a Sith talk about the new cross guard lightsaber held by Kylo Ren in Star Wars: The Force Awakens:
I didn't want to like this, but I did, so we're posting it here. The Unusual Suspect on YouTube took the Star Wars Trilogy and edited into the style of the trailers for Avengers: Age of Ultron.
And while we're on the topic of fan trailers, here's Alex Luthor's take on Star Trek vs. Star Wars.