'Mad Men' Final Season Images Toast To The End Of An Era [UPDATED With First Teaser]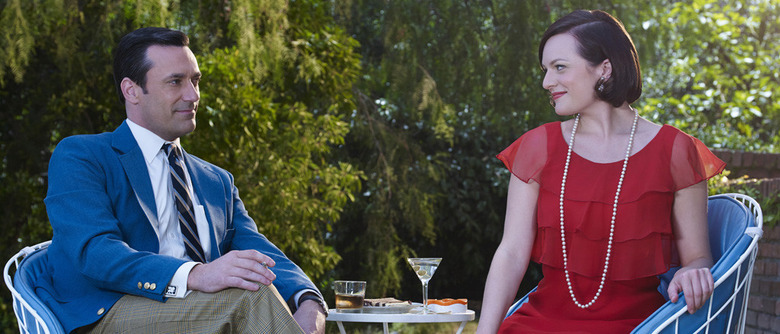 This spring marks the end of an era. For the characters of Mad Men, that era is the tumultuous 1960s; for viewers of Mad Men, it's the show's seven-season run as one of the finest dramas on television.
AMC split the last season of Mad Men into two parts, Breaking Bad-style, so that the first half aired last year while the second is scheduled to kick off in April. To prepare us for the end, the network has released a slew of promo pics for the final season. See the Mad Men final season images after the jump.
UPDATE: The first Mad Men final season promo has just been released, along with one more photo — check 'em out at the end of the post.
The Mad Men final season images come to us from AMC via EW, VF, and Variety, who also have video interviews with Christina Hendricks (Joan), Jessica Paré (Megan), and Vincent Kartheiser (Pete) respectively. It's jarring how different the actors sound when they're not in character.
The first half of Mad Men Season 7 ended shortly after the moon landing on July 20, 1969, and based on the costumes it seems the second half will bring us into the 1970s. Naturally, no one looks trendier than aspiring actress Megan. In contrast, Don looks pretty much the same as he always has. Even Pete and Roger look trendier than he does.
First, here are the plain character portraits with a white backdrop.
And here are all the same people you just saw in a festive garden party setting.
There are so many photos to dig into here... and in typical Matthew Weiner fashion, they tell us next to nothing about what to expect next season. (Half-season. Whatever.) In particular, that shot of Don Draper standing by the pool seems like straight-up trolling. Fans have frequently predicted that Mad Men would end with Don's death, and he's had a near-death experience in a pool once before.
Unless, of course, that shot is actually intended as a clue that Don is heading toward a watery grave. Which it probably isn't. Damnit, they got me again.
Elsewhere, everyone still smokes and drinks way too much, Betty maintains her icy facade, Henry and his boys continue to look oblivious, and Peggy, Pete, and Joan alternately enjoy and tolerate each other. Harry, Ken, Stan, and Ted are relegated to the background of a single shot, but they still fare better than Dawn and Shirley who don't show up at all.
The second half of Mad Men's final season kicks off April 5. The finale is scheduled for May 17.
Update: THR has one more group photo, plus the first teaser. The song used is Diana Ross' "Love Hangover," released in 1976.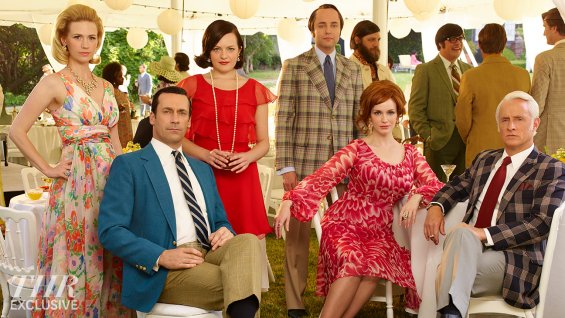 [Additional source: E!]