Exclusive: See MAD Magazine's Parody Of 'Star Wars: The Force Awakens'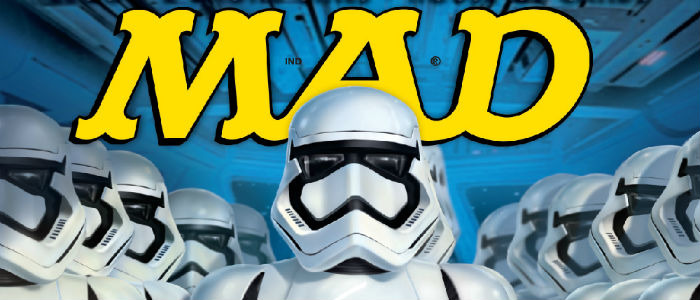 MAD Magazine has a long history of spoofing, well, pretty much everything and they're ready to set their sites on the latest Star Wars. In issue #532, which hits iPad on February 13 and newsstands February 24, a two-page spread spoofs Star Wars: The Force Awakens, under a cover featuring Alfred E. Neuman as one of the slick new stormtroopers.
So how exactly did MAD take aim at The Force Awakens and how did it all go down? Below, get an exclusive look at the MAD Magazine Star Wars: The Force Awakens spoof and read some thoughts about it from MAD Editor in Chief John Ficarra.
Here's the cover of MAD #532 as well as the Force Awakens spread, which takes some of your favorite Star Wars characters and ages them up to the time. The art is by Herman Mejia and it was written by Mike Morse. Click on each to blow it up.
MAD Magazine Star Wars: The Force Awakens spoofs
/Film: How did you settle on now to do a Star Wars Force Awakens parody?
John Ficarra: We've been wanting to do it for years! We first had the idea back in 1981, but they hadn't even announced Return of the Jedi yet, so just sat on it and sat on it. But the excitement finally got the better of us, which is why we published it now and didn't wait till December.
Instead of poking fun at the new characters, you went with the classic ones. Why is that?
There isn't much folk lore around rolling soccer ball droid and an out-of-breath black storm trooper. So we went with what we had.
What about this spread are you most excited about?
Herman Mejia's art is always a treat. And this is the first time Herman's been paired up with the very funny writer, Mike Morse. We're also delighted that the art department put the correct page numbers in the corners. That's something they've struggled with in the past.
What does Star Wars mean to the team at Mad?
MAD has always enjoyed a great relationship with George Lucas. Over the years he has bought all of the artwork from the MAD spoofs of his film. He also wrote an introduction to a MAD/Star Wars compilation we did a few years ago. Most importantly, though, is that he has never sued us!
Do you follow the online spoilers and rumors?
Yes, but only for The Bachelor. If, one day, they talk about Star Wars on The Bachelor, we are going to be the first to hear about it!
With the movie still almost 11 months away, should fans expect to see more Star Wars parodies in Mad?
Maybe, but we like to keep our options open so we're sure to always give our readers what they want. Other sequels besides Force Awakens that we're considering spoofing are Jupiter Ascending 2: Still Ascending, The Interview Part II: Merkel Mayhem, and the sequel to The Boy Next Door, The Boy Next Door, Too: That Kid Two Doors Down.  (We're going to stop now.)
MAD Magazine #532 hits iPad on February 13 and newsstands February 24