Disney And Marvel Totally Revamp Schedule To Make Room For MCU 'Spider-Man'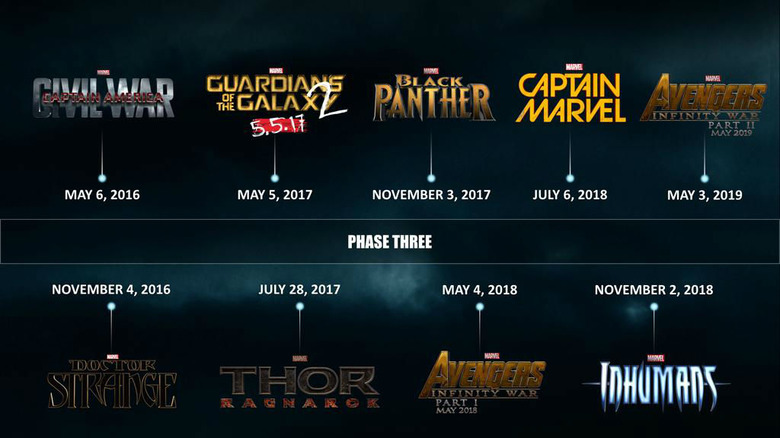 The information in the graphic above is now incorrect. After the landmark deal between Sony and Marvel late Monday night bringing Spider-Man into the Marvel Cinematic Universe, including a new movie on July 28, 2017, Disney has announced they've pushed the third Thor film, Thor: Ragnarok, to November 3, 2017. That's the day Black Panther was coming out. So that film has moved, too, as have Inhumans and Captain Marvel. Find out the new Marvel release dates below.
According to the Wall Street Journal, Black Panther now comes out July 6, 2018 taking over for Captain Marvel. Captain Marvel now takes the place of Inhumans on November 2, 2018 and Inhumans opens July 12, 2019, potentially making it the first film of Phase Four as Avengers Infinity War Parts 1 and 2 remain the same.
What does this really mean? Not much. 2017 is so far away that most of these movies barely have a script, let alone anything else. The only new actor attached is Chadwick Boseman, who now has to wait a few more months for his moment in the spotlight, but we'll see him in Captain America: Civil War in 2016.
What that July 28, 2017 release date for Spider-Man guarantees though is Spider-Man will be part of Avengers: Infinity War Part 1 and 2. That's literally the dream fans have had for years — to see Spider-Man and the Avengers side by side. It's happening.
As for Inhumans, it kind of makes sense that they're movie is to come out after Infinity War Part 2. That's a whole new era for the Marvel Cinematic Universe. Phase Four. What's not quite right is that movie has begun to be set up by not only Avengers: Age of Ultron, but Agents of SHIELD. We're now four plus years out from an Inhumans movie and you can see them on you TV every week. Odd, but a small price to pay to bring in Marvel's biggest superhero.
Lots going on here. What do you think of the new Marvel release dates?