Star Wars Bits: 'Force Awakens' Character Arcs, Grand Moff Tarkin, Boba Fett, Hayden Christensen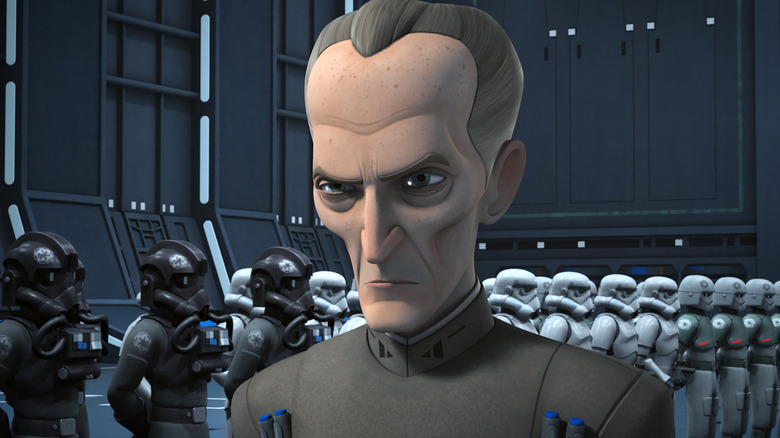 This is a really good edition of Star Wars Bits. Rumors, spoilers, video clips, video games, this has it all. Below, read about the following:
Could the Standalone be about Boba Fett's family?
Episode VIII director Rian Johnson trolls Star Wars nation.
Disney CEO Bob Iger talks Star Wars The Force Awakens trailer and broadband channel.
Grand Moff Tarkin is coming to Star Wars Rebels this week. Watch a clip.
Nicolas Cage enjoyed Hayden Christensen's work in the Star Wars prequels.
Star Wars is coming to Madame Tussauds in London and there's a video.
See some awesome clothing made for the Episode VII special effects team.
Download a ton of old school Star Wars video games via Humble Bundle.
Multiple major spoilers about the identity, stories and fates of characters in The Force Awakens are discussed.
Along with the casting news of Felicity Jones likely starring in Gareth Edwards' 2016 Star Wars standalone, The Wrap dropped this nugget into their story:
Chris Weitz is rewriting Gary Whitta's screenplay, which is rumored to involved Boba Fett's family.
Is it? That's the first we've heard of this rumor. We've heard of Boba Fett being involved before but never anything about his family. Plus, we know about Boba Fett's family don't we? Jango Fett? Cloning? Either way, an interesting aside.
This is too funny. A great tweet by Star Wars Episode VIII writer/director Rian Johnson.
In his latest investor call, Disney CEO Bob Iger talked about Star Wars theme parks (read about that here), the fact The Force Awakens trailer has now been viewed about 123 million times, and dropped a tantalizing tease that Disney could in the future discuss a Marvel and Star Wars based "programming bundle" for broadband.
The February 9 episode of Star Wars Rebels is called Call To Action and will feature a role for Grand Moff Tarkin. You see the photo above, and here's a clip.
Also of note, the name "Tarkin" might appear again in Star Wars lore. Making Star Wars found something interesting, which may be a spoiler.
This video is so good. IGN talked to Nicolas Cage about his new movie Outcast, which co-stars Hayden Christensen, and Cage talked about how much he admired his work in "Uncle George's" movies. Meaning, Attack of the Clones and Revenge of the Sith.
Star Wars is coming to Madame Tussauds London this May with 16 wax figures of your favorite characters. You can read more about it on the official website, watch the video above, and see just a few photos below.
Star Wars fan site Yakface posted an image on Facebook of some Star Wars: The Force Awakens Special Effects crew gear acquired by a private collector. You can read more at that link, but here's the image.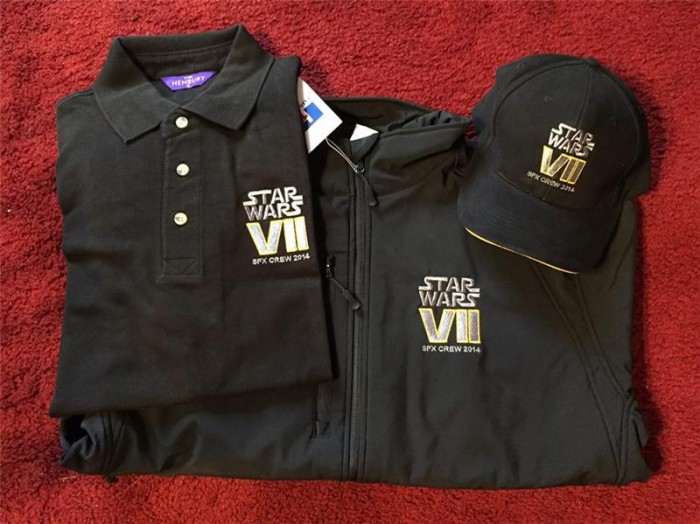 Humble Bundle, an awesome internet service, is going for the full Star Wars right now. Donate any amount you want to get a bunch of old school Star Wars video games. Click the below image for more information and to download.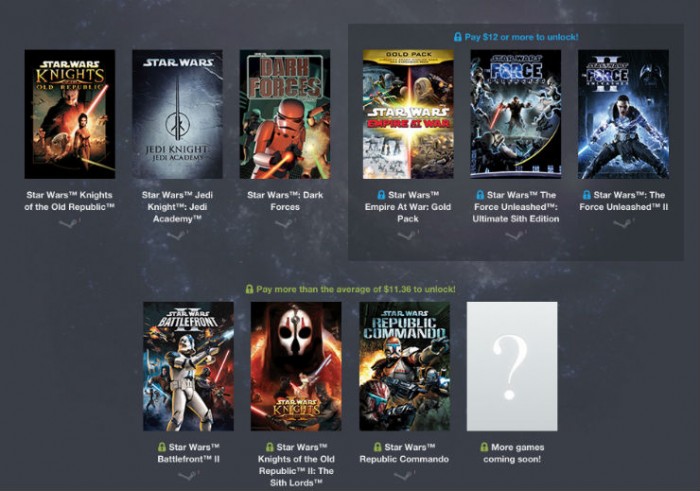 Last but definitely not least, Making Star Wars is at it again running a massive amount of potential Star Wars: The Force Awakens spoilers. If you don't want to read spoilers, you can click away now.
MAJOR SPOILERS FOLLOW
There are two articles in question. Here's a link to the first one. There they discuss the snow planet in the films, Rey and her role as well as a potential super weapon. This last one is a rumor that keeps popping up over and over and this article has a makes a interesting, cool connection. One that – if it's true – is as big a spoiler as there is.
The second article actually expands and bolsters that spoiler a bit. This article is fascinating because not only does it get into big, deep spoilers (like the super weapon stuff) it offers some of the most logical and interesting character descriptions we've heard yet, for characters we haven't heard much about yet.
Among my favorites are Domnhall Gleeson as a Rebel who turned to the Empire when he learned of their plans. The corruptibility of the Rebels is a potentially very rich story to mine for the trilogy, if true. There's also information on the relationship between Finn, Rey, Poe and some of their parents. Finally, Luke Skywalker's role in the film, the connection to Kylo Ren and even Rey is discussed. If you're into this stuff, I highly suggest reading it. We don't know if it's true or not, but it's very entertaining and interesting. Here's the link.