Woody Allen's New Film Is Called 'Irrational Man'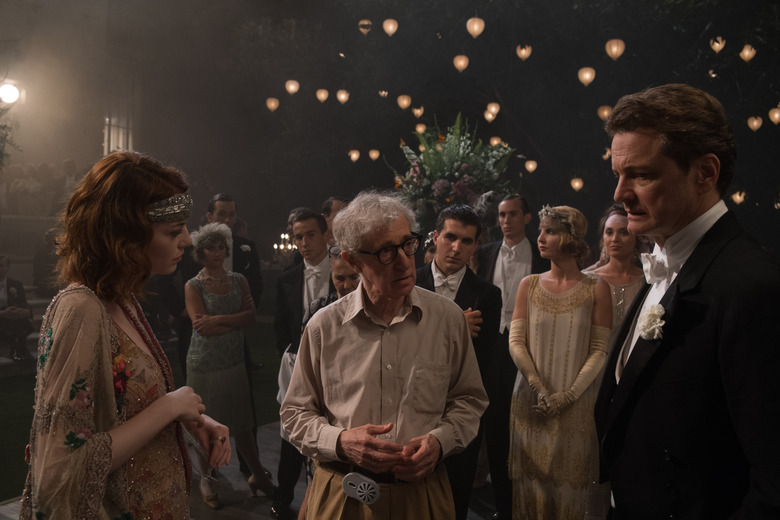 Woody Allen's latest film finally has a release date and a studio. Irrational Man will be distributed by Sony Pictures Classics, as were Allen's last six films. Emma Stone, Joaquin Phoenix, Parker Posey, and Jamie Blackley star. More of the Woody Allen Irrational Man news is after the jump. 
Allen said some nice things about Sony Pictures Classic in a statement. "Sony Classics and I have a good working relationship," he said. "I like the way they handle my movies, very special, very classy and I always hope my films live up to their expectations."
Sony had similarly pleasant things to say about Allen. "Woody Allen's new movie Irrational Man, his latest annual gift to moviegoers everywhere, is as fresh and winning as ever."
Plot details on Irrational Man are being kept under wraps, though there are some theories floating around. My favorite is this one:
Great. Even Woody Allen is making superhero movies now. #IRRATIONALMAN

— Jesse Crap (@jessecarp) January 30, 2015
More plausible, though, is this IMDb summary:
On a small town college campus, a philosophy professor in existential crisis gives his life new purpose when he enters into a relationship with his student.
Sony Pictures Classics hasn't confirmed that logline. But it's hard to think of a more Woody Allen-esque story than a romance between an neurotic intellectual and a much younger woman. We'll have to wait and see if there's more to it than that.
Presumably Phoenix is the professor and Stone is the student. Which, by Allen standards, isn't such a stark divide. She's 26 in real life and he's 40. In contrast, Stone's last Woody Allen love interest, Magic in the Moonlight's Colin Firth, was 54.
Sony Pictures Classics hasn't announced a release date. If they follow their usual pattern with his films, though, we can probably expect an Irrational Man trailer this spring, followed by a release this summer.
In typical form, Allen is already plugging away at his next project — his first-ever TV series, which is set up at Amazon.
[via TheWrap]