'Hannibal' Trailer Offers A Little Taste Of Season 3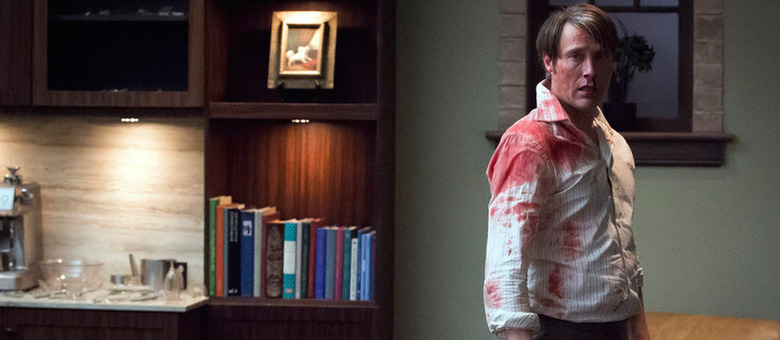 It's probably a bad idea to accept a taste of anything Hannibal the brilliant psychiatrist/cannibal has to offer, but it's an excellent idea to get a taste of Hannibal the acclaimed NBC drama. Especially when the taste is as delectable as this one is.
The very first trailer shows Will Graham (Hugh Dancy) looking for his old friend Hannibal Lecter (Mads Mikkelsen), in what appears to be Florence, Italy. It seems he's got a pretty important message to deliver. Newly minted series regular Gillian Anderson also swings by. Watch the Hannibal Season 3 trailer after the jump. 
EW premiered the Hannibal Season 3 trailer. If you're still reeling from the Season 2 cliffhangers, this isn't going to ease your mind any.
In an earlier interview with TV Guide, showrunner Bryan Fuller revealed that Hannibal would continue to take inspiration from Thomas Harris' books, but remix the familiar elements in a fresh way:
Season 3 is going to be a lot of fun because it's going to be taking a lot of disparate elements from the novel Hannibal Rising and the novel Hannibal and mashing them up together as part of the thrust of the season. It's going to be fun to bastardize two novels into one sort of Frankenstein season. I will brace everybody right now: We're significantly changing the Hannibal origin story from Hannibal Rising.
Among the new characters who'll be introduced this season are Francis Dolarhyde a.k.a. the Tooth Fairy, who'll be played by Richard Armitage; Chiyoh, played by Tao Okamoto; and Molly, played by Nina Arianda. Also joining the cast is Joe Anderson, who replaces Michael Pitt as Mason Verger. Raul Esparza, Eddie Izzard, and Kacey Rohl are expected to reprise their roles from previous seasons.
The only downside to this utterly luscious Hannibal Season 3 trailer? It makes the wait til this summer's premiere that much harder to stomach.