CBS Finds Its 'Supergirl' In 'Whiplash' Star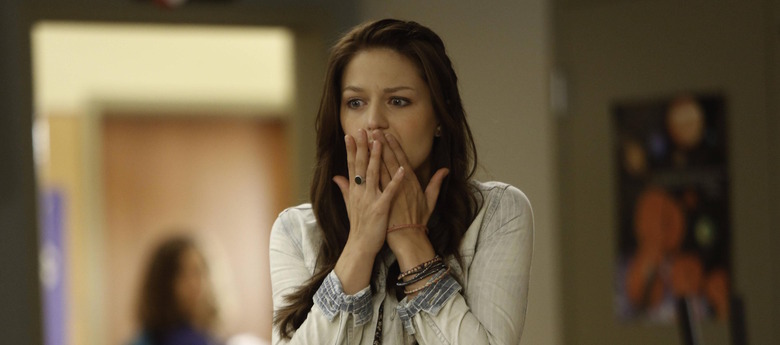 Say hello to TV's newest superheroine. CBS has found its Supergirl lead in Melissa Benoist, best known for playing Marley on Glee and Miles Teller's love interest in Whiplash. More on the Supergirl Melissa Benoist casting after the jump. 
The Wrap reported the news. Benoist beat out several other contenders including Claire Holt from The CW's Vampire Diaries. The hourlong superhero drama comes from Greg Berlanti (of The CW's The Flash and Arrow), and Ali Adler (No Ordinary Family). Sarah Schechter (The Flash) will also executive produce. Supergirl already has a series commitment from CBS and is expected to premiere sometime during the 2015-2016 season.
At the center of the show is Kara Zor-El. Like her more famous cousin Superman, Kara was born on Krypton but managed to escape to Earth just as her home planet was destroyed. She's spent most of her life trying to hide her superhuman powers but now, at the age of 24, she's decided to embrace her abilities to do good.
Other key characters include Kara's 26-year-old foster sister Alex Danvers, who is both jealous of and fascinated by Kara. She sounds like a potential Lex Luthor stand-in, but as of now we don't know for sure whether she'll be an ally or an enemy. Classic Superman character Jimmy Olsen will also be a prominent character.
Benoist's big breakthrough was Fox's Glee, which she joined in Season 4. Her other roles include guest spots on The Good Wife and Homeland, and her upcoming projects include the Al Pacino dramedy Danny Collins and the Nicholas Sparks adaptation The Longest Ride.
With CBS' Supergirl, 4 of the 5 major networks could have DC-based superheroes next season. The CW has Flash and Arrow, both of which have been big successes for the network; Fox has the Batman prequel Gotham, which has already been picked up for Season 2; and NBC has Constantine, which may or may not be renewed for a second season. The fifth, ABC, is owned by Disney, so it only has Marvel-based shows like Agents of S.H.I.E.L.D.