'Project Almanac' To Cut Controversial Scene One Week From Release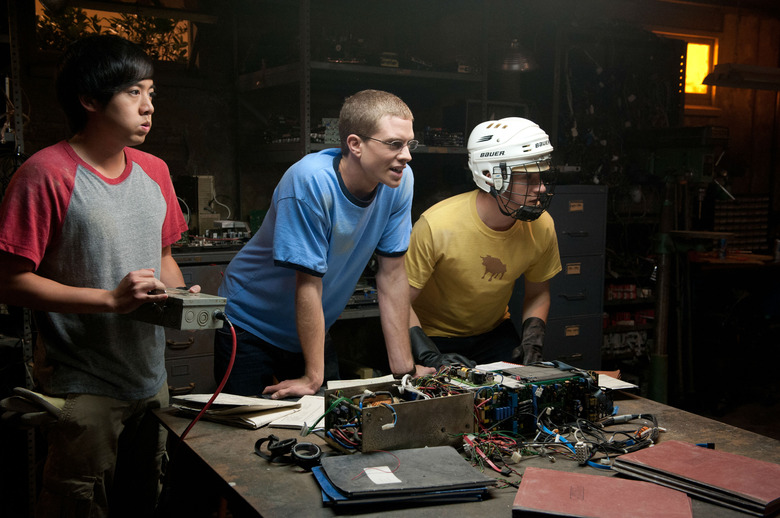 In Project Almanac, the "Primer meets Chronicle" found-footage teen time travel movie, the kids traveling back in time make some mistakes. Their real life counterparts have now made some mistakes too. In the film, there's a plane crash caused by the time travel plot (that crash is in the trailer) and it seems director Dean Israelite may have used actual plane crash footage in the movie. Footage from a 1994 B-52 crash at Fairchild Air Force Base in Washington. The families of two of the victims, Col. Robert Wolff and Lt. Col. Mark McGeehan, noticed the footage, were obviously upset by it and complained. Now producer Michael Bay and his team have apologized and will cut the scene before the film's January 30th release. Read more about the Project Almanac cut scene below.
The Air Force Times first reported the controversy. Here's Michael Bay's response to them:
My relationship with the United States military has been very strong my entire film career. Every branch of service has appeared in my past films or TV shows. I have encountered nothing more than extraordinary brave men and women who serve our country. I'm very proud to be able to represent them professionally in my films.
Unfortunately today I learned that the movie "Project Almanac," produced by my Platinum Dunes company, directed by a talented first-time director, used a 2-second shot in a grainy news clip of a real B-52 crash. When the director presented his cut to me, I actually thought the short clip was a created visual effect like many of the other shots in the film.I let film directors make their movies at Platinum Dunes and give them tremendous responsibilities. Well, unfortunately a very bad choice was made to use a real crash instead of creating a VFX shot, without realizing the impact it could have on the families.I have asked Paramount Pictures to remove this shot immediately from the picture. I want to also extend my deepest apology to the families, and also to the U.S. Air Force.
Paramount then confirmed the scene will be removed from the film before the release date, and the families accepted the apology.
Oddly enough, before that decision was made, the Times reported Paramount said "the filmmakers used footage of a different crash that took place in Tokyo in 2009, but that crash does not resemble the film footage." Nevertheless, it's gone. Which is the right move.
Having seen Project Almanac, I'm must say I'm not sure how that's going to work. The crash is a crucial plot point in the film. Maybe they'll just find stock footage from another movie and use that? Or imply the crash without showing it?
Do you think Bay and Paramount made the right move?
Here's the Project Almanac trailer, which includes the scene in question.