'Game Of Thrones' IMAX And TV Special Trailers Offer A Brief New Look At Season 5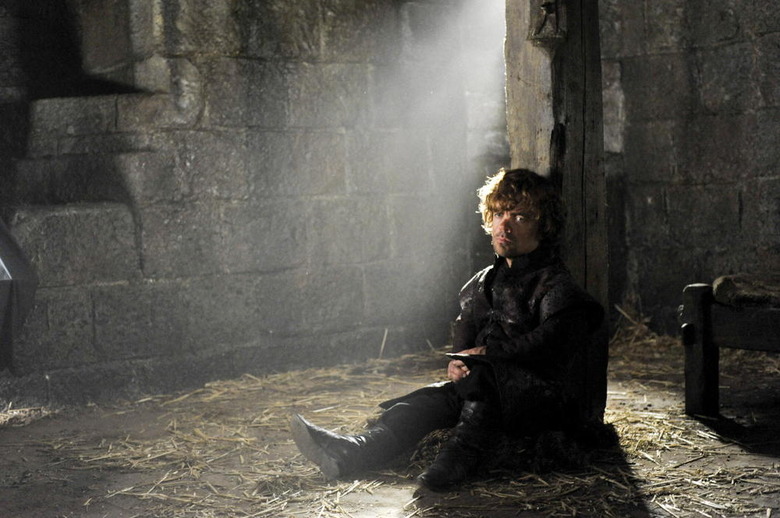 HBO is starting to ramp up their marketing for Game of Thrones Season 5. The campaign begins in earnest with the upcoming Game of Thrones IMAX presentation, which will consist of the last two episodes of Season 4 plus an exclusive first trailer for Season 5.
Then, once our appetites have been whetted, the show will take us behind the scenes with an HBO behind-the-scenes special. Trailers for both the IMAX showing and the TV special have been released, featuring a tiny tiny taste of Season 5. Check 'em out after the jump. 
First, here's the Game of Thrones IMAX trailer:
The small slice of new footage comes toward the end, as we see Tyrion spilling out of a crate. He looks dirty and disoriented, which is maybe not so surprising considering how things ended for him in Season 4.
As previously reported, the Game of Thrones IMAX presentation will screen in 200 theaters starting January 29. Tickets are already on sale, and those who go to the first screenings will come away with one of two sweet posters by Robert Ball.
The Game of Thrones IMAX run will be followed by "A Day in the Life," an HBO behind-the-scenes special to air February 8 at 7:30 PM. Here's the Game of Thrones TV special trailer:
'Game of Thrones: A Day in the Life' is a half-hour documentary that covers one day of production on three different sets, in three different countries — Belfast, Ireland; Dubrovnik, Croatia; Sevilla and Osuna, Spain — during the filming of Season 5. Following key crew members, the show highlights the epic sets, renowned cast and global scale of Game of Thrones, as well as the more intimate and individual challenges of our subjects, giving the audience a new perspective on one of the most elaborate productions in television history.
It's probably our best look yet at Game of Thrones Season 5. Though it consists of behind-the-scenes footage, it seems to tease a few big events including a spear fight and a wildling(?) charge.
Game of Thrones Season 5 premieres April 12, 2015. It'll be based on Books 4 and 5 of George R.R. Martin's A Song of Ice and Fire series, A Feast For Crows and A Dance With Dragons. Newcomers to the cast will include Alexander Siddig, Keisha Castle-Hughes, Adewale Akinnuoye-Agbaje, and Jonathan Pryce.