That '21 Jump Street' 'Men In Black' Crossover Is Actually Possible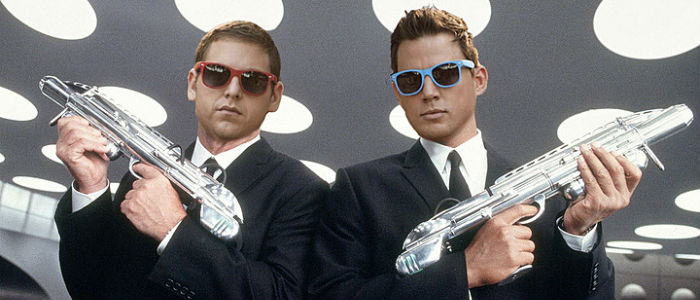 One of the craziest rumors to come out of the Sony hack was that the company was considering a 21 Jump Street / Men in Black crossover to give each franchise a kick in the ass. In an odd way, the end credits of 22 Jump Street made it seem possible as directors Phil Lord and Chris Miller made a huge joke about Schmidt and Jenko (Jonah Hill and Channing Tatum) jumping across genres with the series. Why not recruit them to battle aliens, opening the series up to innumerable crossover jokes that would keep the self-referential tone intact?
What seemed like a crazy rumor is now a little bit more than that. Lord and Miller were recently interviewed and admitted this idea is definitely a possibility. Read more about the Jump Street Men in Black crossover below.
Lord and Miller – the directors of 21 and 22 Jump Street, were asked about the possibility of the Jump Street Men in Black crossover by MTV. Here's the video. Above photoshop credit to our friends at ScreenCrush.
Get More:
Movie Trailers, Celebrity News
And here are the quotes, if the video doesn't work. First Lord:
Nothing's changed. It's still a crazy idea, and we only do things that seem like they're going to be terrible....We're really focusing on what's a great story for Schmidt and Jenko and how to tell the next chapter in their lives. And perhaps use creatures from another world at the same time.
MTV then asked about the possible animated Spider-Man film mentioned in the same original rumor, and Miller added this:
We're developing a lot of things, you know. And they may or may not all happen, but that's how the business works.
So basically, it's possible if a story is hammered out, a script, a budget, all that good stuff. Which is what you can basically say about any idea that's written in what's supposed to be a private e-mail. It'll happen if it all works out. But it's nice to know that the directors are open to the idea and semi-excited by it. Plus, they're right about one thing. They thrive on ideas that are supposed to be terrible and this would fit right into that mold.
Would you genuinely get excited for a 21 Jump Street Men in Black crossover?