David Fincher And Ben Affleck To Remake Hitchcock's 'Strangers On A Train'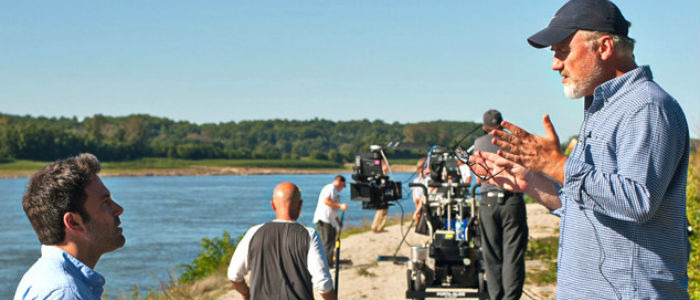 The team behind Gone Girl is going to give a modern twist to an old classic. Director David Fincher and star Ben Affleck are set to remake Alfred Hitchcock's Strangers on a Train. However, this version will be updated and simply called Strangers. Gone Girl author / screenwriter Gillian Flynn is in talks to write the script.
The title and concept change makes sense, because honestly who travels by train anymore? Here's the twist: it's basically "Strangers on a Plane." Affleck will play an Oscar contender whose private plane breaks down. He's then forced to catch a ride with a mysterious, wealthy stranger. From there, you can imagine what murderous twists and turns might be inspired by the 1951 Hitchcock film. Read more about David Fincher Strangers below.
Deadline broke the news of the updated remake. Warner Bros. will produce and distribute and the hope is for Affleck to star in this film between his next movie, Dennis Lehane's Live by Night (which he's also directing), and the Justice League movies. Fincher and Flynn will have their HBO show Utopia to work on in the meantime.
The original Strangers on a Train is a solid Hitchcock thriller about two men who meet on a train – hence the title – and work up a tentative agreement to commit anonymous murder for one another. Will Affleck's character, a famous actor, do something similar in this film? It seems likely. And if that results in a murder mystery thriller under the watchful eye of David Fincher, then hell-to-the-yes.
Strangers on a Train is such a simple, great idea, you'd assume it's been remade time and again. There have been many films inspired by it (most prominently Throw Momma From the Train) and a couple of TV remakes, both promoted as "the female Strangers on a Train." But there is no direct big-screen remake. Some producers have tried, but nothing has ever materialized.
With Flynn's words (if she signs to write the script – she's still in talks), Affleck and Fincher, this movie definitely has some promise. What do you think of Strangers?