'The Purge 3' Set For Summer 2016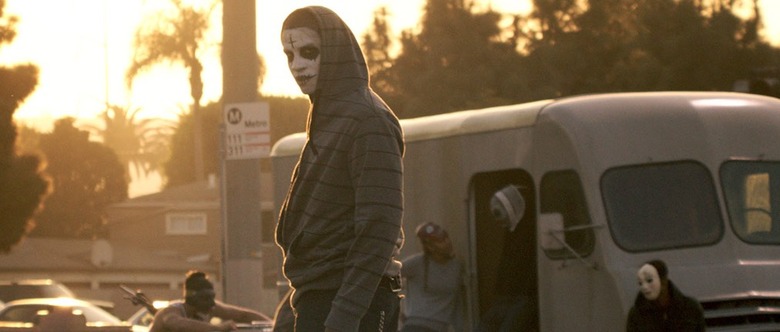 The Purge came in 2013, and returned in 2014. The event won't actually be an annual occasion — not in the real world, at least — as 2015 will be purge-free. But Universal has just set the third installment of the new horror/thriller franchise for a 2016 debut. So we have a Purge 3 release date, and those who've enjoyed the first two stories of a night in which all crime in America is legal, the better to cleanse society of "weak" or "undesirable" elements, have a date to circle on their calendar.Ben Fritz of the Wall St. Journal was among those with tweets announcing the date:
No Purge this year. Universal dates "The Purge 3" for July 1, 2016.

— Ben Fritz (@benfritz) January 8, 2015
That July 1 release date is prime summer territory, and puts The Purge 3 up against Tarzan from Warner Bros. and The BFG from Steven Spielberg and Disney.
There's no info there, but we do know a bit more about The Purge 3. In September The Purge: Anarchy actor Michael K. Williams said he will "most definitely" be back as Carmelo Jones, who Williams claims was "set up" by the authorities.
Then, in October, Blumhouse announced that James DeMonaco, the writer and director of the first two films, is returning to take the same jobs on the third movie. That makes this series relatively unusual. By this point, most studio horror/thriller series would have the original creator moving to a producer role, with younger talent taking on the writing and directing duties.
DeMonaco said at the time:
I never imagined that The Purge would become the phenomenon it has become and I am thrilled to continue my collaboration with Blumhouse, Sebastien Lemercier, Platinum Dunes and the great team at Universal in building The Purge into a worldwide franchise.
We'll pass along more casting and story info on the film as it is made public.