Why 'The Interview' Digital Success Probably Won't Change Future VOD Releases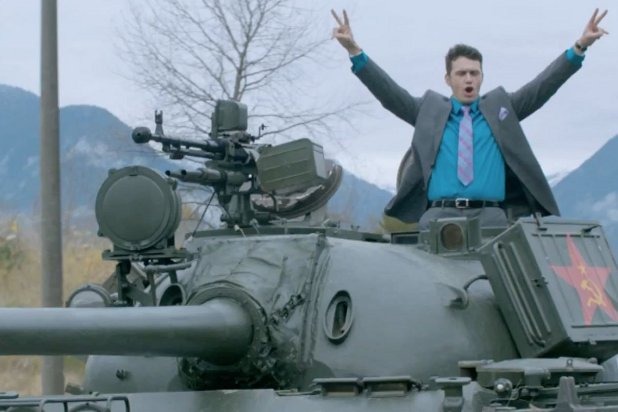 The Interview was a pretty solid success on VOD, with Sony calling the film its best-ever digital performer, but what will that mean for studio VOD films, especially the concept of day and date releases, going forward? Probably nothing, say analysts, so long as theater chains continue to be resistant to day and date schedules that put films in theaters and on VOD at the same time.THR put together a piece with a few bits of data about The Interview, though some of that is already out of date. (The piece, for example, says an international release plan is unclear, though we already know the film will hit the UK and Ireland in February.)
Here are some numbers:
$2.9m in its first four days in 331 theaters.
$1.1m in the second weekend, after expanding to 581 theaters.
$5.3 total theatrical as of now.
$15m on VOD going into the weekend after Christmas.
$31m grand total on VOD by Jan 4 after adding iTunes and cable options.
That's a big theatrical tumble and a relatively low theatrical gross overall.
So is there more to consider here? Does the heavily politicized nature of The Interview's cancelation and release factor in? Theater attendees and many of those first-week digital rentals and sales were likely driven by the film's unusual profile in the media leading up to Christmas. It is difficult to quantify how the strange buzz around the film affected its gross, and foolish to assume that such a thing will be repeated in the future.
Given the precise timing of the release, VOD rentals or purchases could have made much more sense to consumers than a theatrical trip, especially since the film was primarily in indie theaters, which are few in number and sometimes have a smaller capacity than chain houses.
It isn't unreasonable to guess that the sharp drop into the second weekend had more to do with general public fatigue about the movie as a whole than the sole factor of VOD availability. Attention was intensely focused on the film as a rallying point more than as an actual comedy, so once people saw the movie, that intense interest was quick to fade. A more traditional rollout could have generated very different numbers.
While studio deals with theater franchises will likely restrict future day and date releases for studio films, there's still something to take away from this situation, as we've talked about before. Reporting of VOD grosses is in its infancy, and Sony putting The Interview's numbers out there is a good prompt for other companies to follow suit with their own releases. More thorough reporting of VOD grosses will help people understand what potential really lies in that marketplace, and that could be the thing that helps change VOD release patterns in the future.