Reese Witherspoon Reuniting With Alexander Payne For 'Downsizing'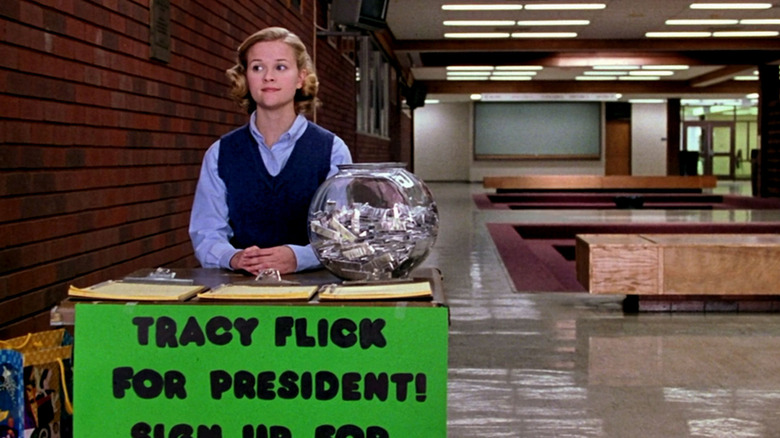 Are tiny people the next big Hollywood trend? Tuesday brought us the first trailer for Marvel's Ant-Man, and now we have an update on the other upcoming movie about an incredible shrinking man.
Alexander Payne's Downsizing has just found a female lead in Reese Witherspoon, who starred in Payne's Election 16 years ago. Matt Damon is already attached to play the lead. More details on the Reese Witherspoon Downsizing casting after the jump. Deadline reported the news. Downsizing centers around a guy (Damon) who realizes he'd be better off if he could shrink himself, as a smaller size would allow him to consume fewer resources.
The sci-fi-ish premise is new territory for Payne, but he's no stranger to satire. The team involved with Downsizing sounds pretty familiar, too. In addition to Witherspoon's casting, Downsizing has a script written by Payne with his Sideways and About Schmidt co-writer Jim Taylor.
This is actually Witherspoon's second brush with the project. Downsizing has been developing for several years already, and as of 2009, Witherspoon was attached to star with Paul Giamatti and Sacha Baron Cohen. However, that iteration fell apart and Payne opted to make The Descendants instead.
Witherspoon had been acting for a few years already when Payne's Election came along. But her singular performance as overachiever Tracy Flick in that film helped usher her into the A-list, where she has remained ever since.
She's currently coming off of Wild, for which she's considered a likely Best Actress Oscar contender, and Gone Girl, which she produced. Most recently, she wrapped the action comedy Don't Mess with Texas.
Timing could prove an issue for Witherspoon on Downsizing, as she's weighing a few options for her next move. Then again, she has some time to sort things out. Downsizing is expected to shoot sometime after Damon wraps the next Bourne film, due out in summer 2016.