'The Grey Matter' Short Film Will Get In Your Head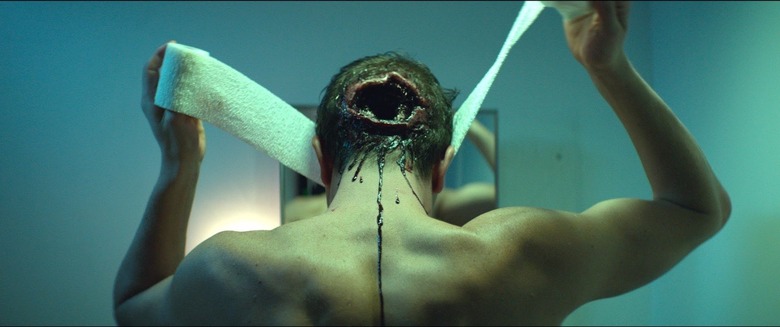 /Film readers and filmmakers Peter and Luke McCoubrey (aka the McCoubrey Brothers) have released his short film The Grey Matter online. The dark horror/sci-fi comedy short played at the Nitehawk shorts festival, the Show Me Shorts Film Fest, the Sidewalk film festival, San Antonio film festival, the Brooklyn film festival and was awarded a Vimeo Staff Pick this month.
The film stars Ebon Moss-Bachrach (Girls, John Adams) as an office stiff who, after suffering a mysterious injury, finds himself stumbling through a courtship with a coworker played by Lucy Walters (Shame, Power)... but something strange is afoot. With the romantic guidance of a creature unearthed from his head wound, he finds himself stumbling through an absurd, increasingly unorthodox, and potentially fatal attraction.
Watch The Grey Matter short film embedded after the jump.
The Grey Matter Short Film
The McCoubrey Brothers have been making music videos and TV commercials, but Peter tells me the short "arose from our desire to delve a bit deeper into character and story than the parameters of music video or commercial ever could allow."
Having a soft spot for the genre movies of the 80s, we've always loved way they often bounced around from horror — to comedy — to enigmatic — to just flat out weird... as well as their inventive use of practical FX. Films like An American Werewolf in London, Return of the Living Dead, Big Trouble in Little China,The Fly, Brain Damage and Brazil all had a level of influence over the film's initial conception. We wanted to honor the wild, inventive, and playful spirit of those films but at the same time create a film that felt modern, cinematic, and hopefully leave the audience wanting more.
You can learn more about The Grey Matter on the film's official website.
Facebook: facebook.com/TheGreyMatterMovieTrailer: vimeo.com/88676234Opening Credits (Deleted Scene): vimeo.com/86454868Starring:EBON MOSS-BACHRACH (Girls, John Adams)LUCY WALTERS (Shame, Power)CARTER ROY (Found Footage 3D)Directed by – THE MCCOUBREY BROTHERS mccoubreybrothers.comWritten by – PETER MCCOUBREYDirector of Photography – LUKE MCCOUBREY www.lukemccoubrey.comEditor & Composer – RON PATANE (A Most Violent Year, Blue Valentine) www.ronpatane.comProduced by – ASHLEA HARTZCostume Designer – MALGOSIA TURZANSKA (Ain't Them Bodies Saints, In a Valley of Violence) www.turzanska.comExecutive Produced by – LUKE MCCOUBREY, PETER MCCOUBREY, & EMILY WIEDEMANNCreature & Make Up FX – TATE STEINSIEK (SyFy's Face Off, The Amazing Spider-Man) www.illwilled.comVFX – PHOSPHENE FX (Boardwalk Empire, True Detective) www.phosphenefx.com