'Spectre' Budget Soars To $300 Million As Sony Tries To Cut Costs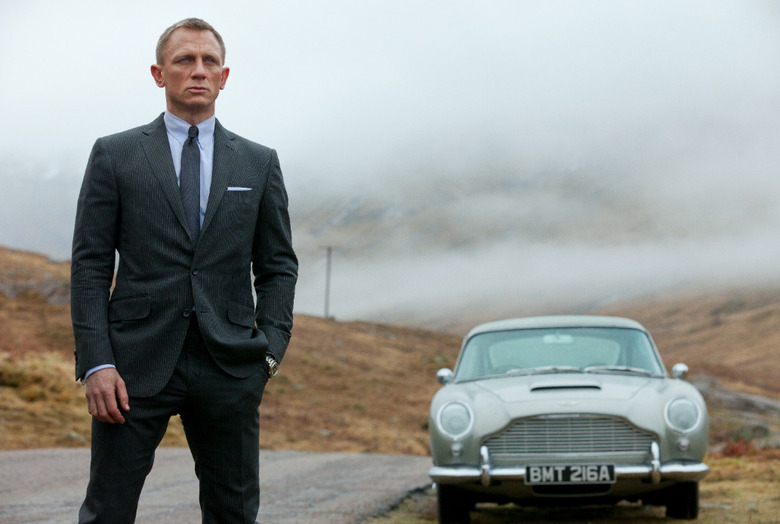 Aston Martin cars and Omega watches don't come cheap, and neither do James Bond movies. Sony execs are trying hard to bring down the Spectre budget, which is currently hovering in the $300 million range.
For example, budgetary concerns are one reason Andrew Scott was cast in the role of C — it turns out he was cheaper than the original first choice, Chiwetel Ejiofor. Meanwhile, more character details have come out including confirmation that iconic Bond baddie Blofeld will appear. Hit the jump for more Spectre budget news and plot details.
CNN Money reported on the contents of an email sent by MGM president Jonathan Glickman in early November, via the Sony hack. Glickman calls for the studio to pare down the $300 million budget by $50 million, noting that the shooting period already costs $50 million more than Skyfall.Potential Spectre spoilers follow.
Among his ideas for shrinking costs:
Villa in Rome? It's a nighttime scene, so try doing it in London instead.
There's fighting on a train! Again! But use fewer carriages — three instead of four.
Forget the dramatic finale in the rain. It'll lower the cost of visual/special effects.
Earn an extra $6 million by showing "the more modern aspects" of Mexico to maximize "the Mexican incentive."
Not surprisingly, Bond producer Barbara Broccoli seems resistant to Glickman's requests, arguing that she "cannot find the cemetery or villa in the UK." However, it is unclear whether the Bond team wound up taking any of his suggestions.
Nevertheless, Sony has a few more cost-cutting tricks up its sleeve. The studio has struck another big product placement deal with Heineken. (Hey, even Bond's gotta mix up his liquid diet sometimes.) And Scott, who'll play Bond's new MI6 boss C, cost $1 million less than Ejiofor, who was rumored for the role in April.
Also included in the emails were confirmation that SPECTRE head Ernst Stavro Blofeld would appear in Spectre, though we still don't know whether Christoph Waltz is the one playing him. And there will be a "lesbian bad lady." Whether she'll be portrayed by Monica Bellucci, Léa Seydoux, or someone else we haven't heard about yet remains to be seen.
At this point, there's no reason to be alarmed by Sony's money-saving measures. Budgetary restrictions are necessarily a part of any project, even really expensive ones, and Glickman's ideas sound fairly innocuous. On the flip side, Sony will probably make their money back whether they spend $200 million or $300 million — the last Bond film, Skyfall, took in over $1 billion worldwide.
Spectre opens November 6, 2015. Sam Mendes is directing and Daniel Craig returns to star.