Russ Fischer's Most Anticipated Movies Of 2015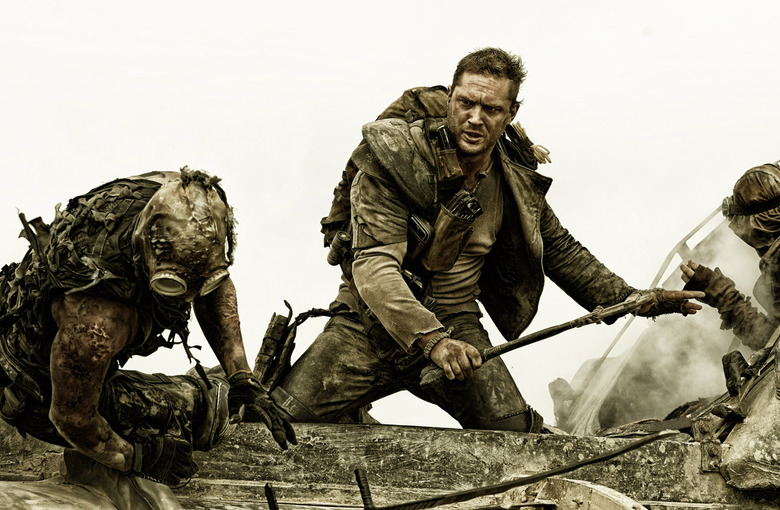 It's that time of the year again, not only for best-of lists, but for the lists that look forward to what's coming next. 2014 has been an incredible year for film; the list of 50 films we compiled not long ago is just a sample of what we've seen in this calendar year. 2015 certainly has quite a few big films on offer — between Avengers, Star Wars and the new Bond film, Spectre, the blockbuster is well-represented. What else does the year have in store? Quite a lot, really.
Below is my list of ten particularly anticipated films for 2015, augmented by some runners-up and personal curiosities. As always, it's weird to make this list just as the Sundance lineup is released, because so many of the currently unknown quantities in that program could end up being among the films we're more eager to see hit theaters later in the year. A lot of what follows is drawn from the crop of bigger movies, though there are some smaller surprises in store, too.
***
[For additional looks forward to movies in 2015, see our additional staff lists from Peter Sciretta, Germain Lussier, and Angie Han.]
The Runners-Up and Curiosities
This part of the list is going to be weird. It's not the "real" list, so I've given it the freedom to go all over the damn place. Some of the films listed below are more curiosities than my most anticipated, some are things that I hope are good but have reason to doubt, and some are films that are big, but for which we haven't seen much in the way of story or footage. They're all films that have my attention for one reason or another.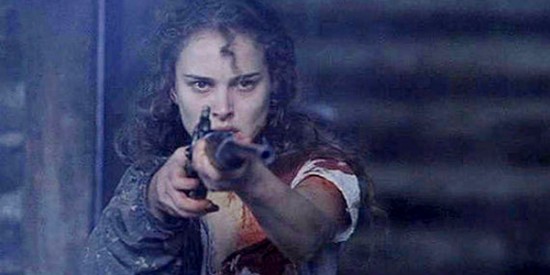 Jane got a Gun
The behind-the-scenes problems of this film put it under public scrutiny long before it was ready, and if it was still Lynne Ramsay's movie it would probably rank in my most anticipated lineup with no qualifications. As is, the idea of seeing Natalie Portman in a revisionist Western is too interesting to pass up.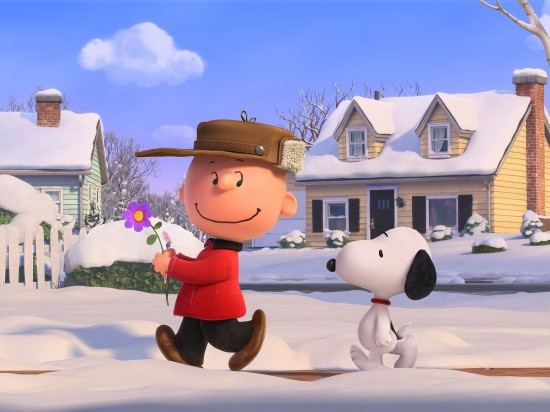 PeanutsHere's a choice born from pure hope, and it's probably a long shot. I hope that this new feature based on Charles Schultz's incredible comic strip can live up to even some of the spirit of the original strips. The first Charlie Brown Christmas special shows that the translation can be done successfully, and I don't expect this film to even live up to that standard. But a good Peanuts movie would be a gift. I'd feel more confident if the promo images didn't all feature Charlie Brown smiling, but we'll see what happens.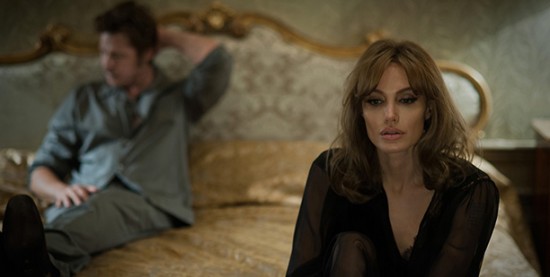 By the SeaI'm hoping to see Angelina Jolie truly blossom as a director, and I'm wondering if this smaller film, in which she stars with husband Brad Pitt, might be the one to do it.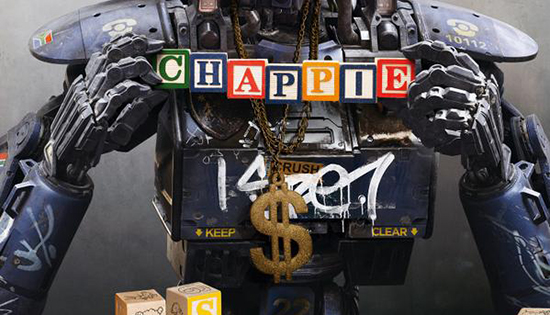 Chappie
One more big curiosity — some of the tone of the first Chappie trailer was really terrible, but I'm also told that was a bit of a marketing ploy. I'd like to see Neill Blomkamp deliver, and this film seems like an oddly personal effort that just happens to come from a studio.

Spectre
The latest Bond film sees the return not only of director Sam Mendes and star Daniel Craig, but of Spectre, the fictional organization that has been off-limits to Bond films for years thanks to an old split between producers. The production is clearly glad to have Spectre back in-house, and with Christoph Waltz on hand as the bad guy (he just has to be Blofeld, right?) this one could be good.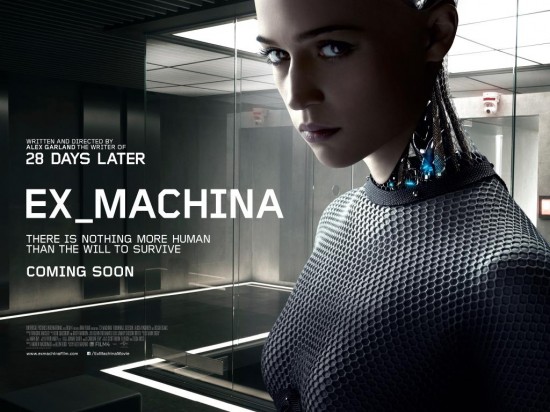 Ex Machina
Alex Garland moves into the director's chair for a sci-fi thriller starring Oscar Isaac and Alicia Vikander. Isaac has become someone I'll watch in anything, and Garland has been an integral part of enough other projects we like that I'm curious to see what he has to offer as a director.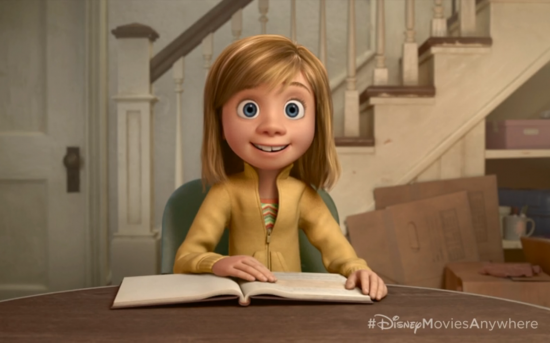 Inside Out
Pixar's next film looks like one of the studio's more unusual ideas, as it follows the anthropomorphized emotions that drive a young girl as she grows from childhood into adolescence.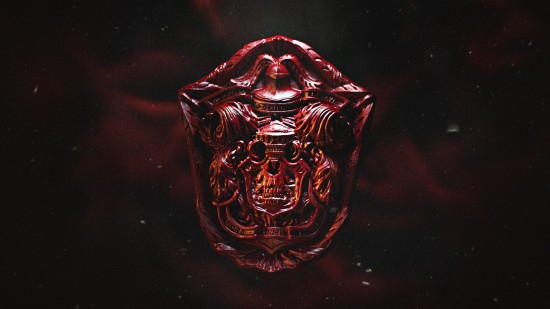 Crimson Peak
Guillermo del Toro gets to make the big haunted house movie he's always wanted to do. Since he has already made an excellent small haunted house movie (The Devil's Backbone) we know he can pull this off. But I'm eager to see what he does with a big budget, a great cast, and the influence of classic old films such as The Haunting.
Silence
Passion projects are always dangerous prospects; there are many that, after years of gestation, emerge over-cooked and unsatisfying. But this is Martin Scorsese, and I'm guessing that his adaptation of Shusaku Endo's 1980 novel about Jesuit missionaries in 17th Century Japan will avoid the pitfalls of the passion project.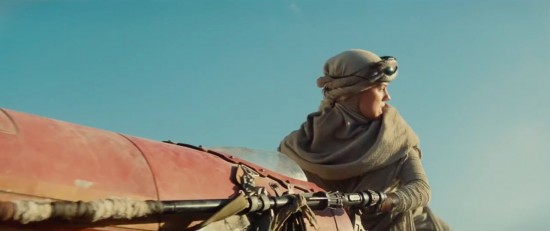 Star Wars: The Force Awakens
That teaser trailer was terrific, and the cast is excellent. Those two line items might be enough for many people, but this is also the follow-up to Revenge of the Sith from the director of Star Trek Into Darkness. I've been burned by Star Wars films too many times to just go on faith that this one will work. If it does, I'll be ecstatic.
***
The real list starts on the next page. And now that you know that Star Wars isn't there, what does make the cut?
10. Ned Rifle
dir. Hal Hartley, stars Liam Aiken, Aubrey Plaza, Parker Posey, James Urbaniak, Thomas Jay Ryan
The work of Hal Hartley is what pulled me into the independent film scene in the first place; chance encounters with his films Trust and The Unbelievable Truth were early wake-up calls that told me a lot more was going on in movies than I'd previously realized. Here, the writer/director returns to the characters of one of his best films, Henry Fool, for an unlikely third chapter in a trilogy. (The middle chapter is Fay Grim, which is, well, not as good.) Word out of festivals was good for Ned Rifle, and I would be thrilled to have a new Hartley movie to rally around.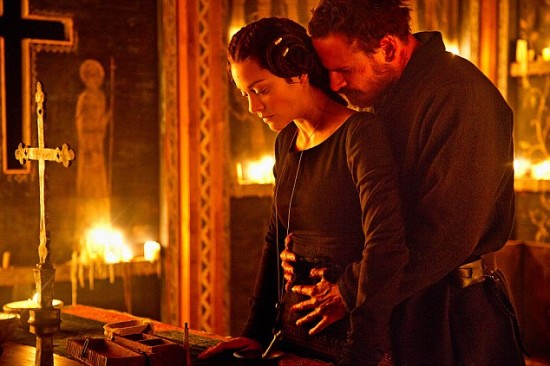 09. Macbeth
dir. Justin Kurzel, stars Michael Fassbender, Marion Cotillard, David Thewlis, Jack Reynor
Based on the material alone this wouldn't place on my list — not only have we seen Macbeth on film many times, we've seen it done badly on film all-too often. But with this cast, I'm in. I would watch Fassbender, Cotillard and Thewlis act in anything, but drop them into a piece of work that is as savage and intense as this, and they may have a chance to do something special.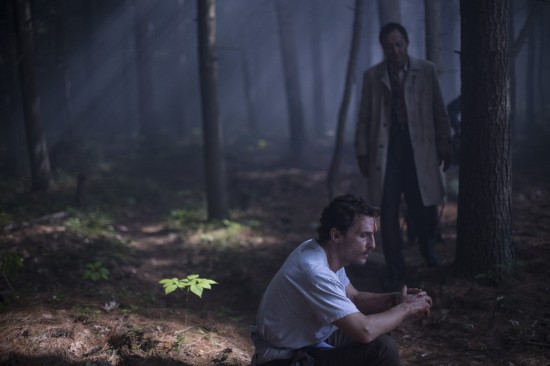 08. Sea of Trees
dir. Gus Van Sant, stars Matthew McConaughey, Ken Watanabe
If you finished off True Detective wanting more of McConaughey's Rustin Cohle, this could be in the ballpark. Here the actor plays a man who walks into Mount Fuji's "suicidal forest" with the intent killing himself, only to be interrupted by another man who had the same plan, played by Ken Watanabe. From there, "the two begin a journey of reflection and survival," and given McConaughey's recent impeccable track record in choosing material, that's all I need to know.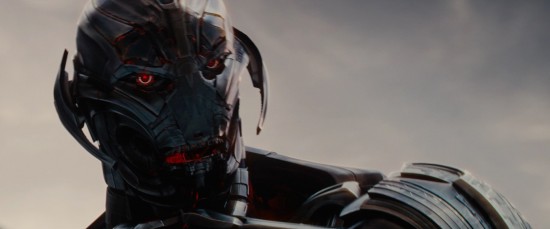 07. Avengers: Age of Ultron
dir. Joss Whedon, stars Chris Evans, Chris Hemsworth, Robert Downey Jr., Scarlett Johansson, Mark Ruffalo, Jeremy Renner, James Spader
You've probably heard of this one. Marvel has built something impressive with it's paradigm-shifting connected universe, and while I hate some of the influence it has had on other studios, that's not Marvel's fault. Age of Ultron looks like the sort of all-out comic book movie that can only be purchased with great success, and Marvel appears to be moving forward with great confidence. It also offers the chance to see (or hear) James Spader perform as a killer robot, and that's enough for me.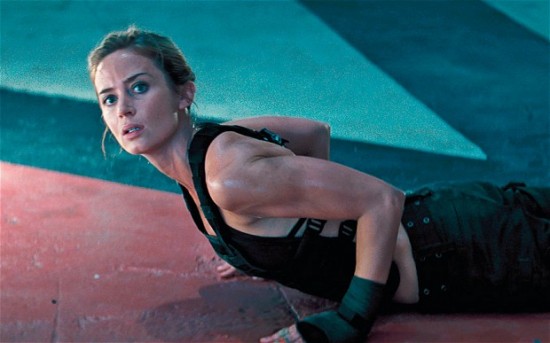 06. Sicario
dir. Denis Villeneuve, stars Emily Blunt, Jon Bernthal, Josh Brolin, Benicio del Toro
Yeah, that image is from Edge of Tomorrow, but we've got no officially-released assets for Sicario yet. But the idea is there: this is a film in which Emily Blunt gets center stage. She's a cop who travels from Arizona to Mexico, with a couple mercenaries in tow, to track down a drug lord. Director Denis Villeneuve didn't quite hit with Prisoners, but his film Enemy was one of the better, and weirder releases of this year. And for Sicario he's working again with cinematographer Roger Deakins, whose work was among the best aspects of Prisoners.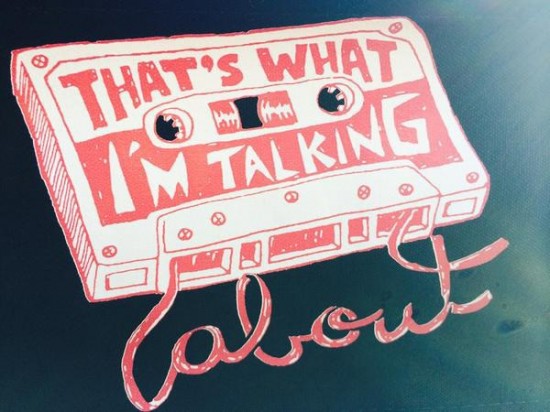 05. That's What I'm Talking Aboutdir. Richard Linklater, stars Wyatt Russell, Zoey Deutch, Glen Powell
Linklater has grown from a filmmaker I like and respect to being one whose work is essential viewing. He is a canny way with story, and understands how to work with actors of all disciplines. This movie has been called a "spiritual sequel" to Dazed & Confused, which is probably a way to set really unrealistic expectations. I'll just watch the story for what it is: another effort from Linklater.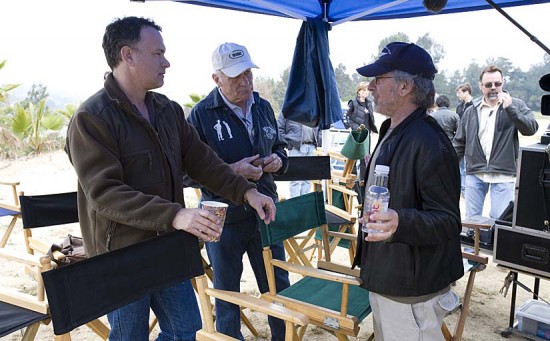 04. Untitled Steven Spielberg Cold War Thriller
dir. Steven Spielberg, stars Tom Hanks, Mark Rylance, Amy Ryan, Alan Alda
Spielberg goes back to the political thriller, with a script by Joel and Ethan Coen and that cast listed above. That's all I need to know.  The film is "the true story of James Donovan, an attorney who finds himself thrust into the center of the Cold War when the CIA sends him on the near-impossible mission to negotiate the release of a captured American U-2 pilot." The last two times Spielberg did real-world politics we got Lincoln and Munich, his two best films of the past ten years.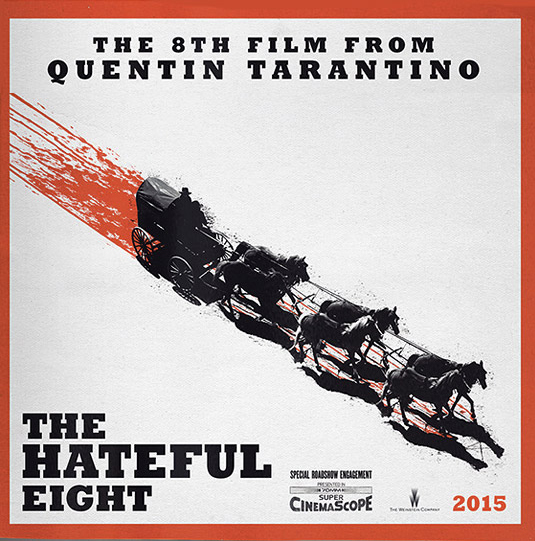 03. The Hateful Eight
dir. Quentin Tarantino, stars Samuel L. Jackson, Walton Goggins, Kurt Russell, Jennifer Jason Leigh, Tim Roth, Bruce Dern, Demian Bichir
The Quentin Tarantino film that almost wasn't represents a collection of odd extremes. It's essentially a closed-room drama shot on the 65mm large-film format, which is often considered to be a means to capture the grandeur of locations, rather than of actors. That's perhaps the most formal statement Tarantino has yet made of the actor as the primary attractions of a film. (Though the point could also be made that the director considers his own scripts to be the primary draw, and there's something to be said for that, too.) Regardless, The Hateful Eight sounds like a distillation of all the things Tarantino does well: great actors in a room with a verbose script, playing people who all want to destroy one another.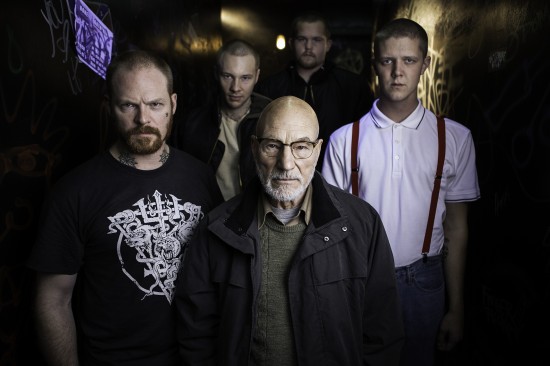 02. Green Room
dir. Jeremy Saulnier, stars Patrick Stewart,  Anton Yelchin, Imogen Poots, Alia Shawkat, Joe Cole, Callum Turner, Mark Webber, Kai Lennox, Eric Edelstein, Macon Blair
The director of Blue Ruin returns with a film that casts Patrick Stewart as leader of a racist skinhead gang that corners a small-time punk band in a club after they witness some of the gang's violence — and these skins don't leave witnesses. Blue Ruin was great, and the story of this film is perfect. It couldn't be more tailored for me. I'm excited to see what Saulnier does with it, and hope he's got a bit of money left over for a great soundtrack.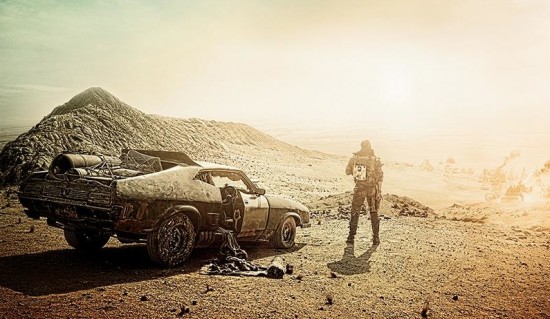 01. Mad Max: Fury Road
dir. George Miller, stars Tom Hardy, Charlize Theron, Nicholas Hoult
There's a possibility I'll get burned on this one, but the footage we've seen so far from Mad Max left my jaw on the floor. I can't remember the last time a first look at a studio action movie left me so gobsmacked. Those who saw the early test screenings of Fury Road this year called it a 90-minute chase film, and it has been described as a picture with very little dialogue, and it's possible that from a character angle Fury Road will be pretty light. But if it is as impressive throughout as that footage was, I don't even care.
***
In retrospect I realize that I totally forgot about Ben Wheatley's adaptation of the book High Rise, which would have easily made my top ten had I remembered to consider it.
[For additional looks forward to movies in 2015, see our additional staff lists from Peter Sciretta, Germain Lussier, and Angie Han.]