Paranoid New 'Inherent Vice' Trailer Heralds Sneak Preview Screenings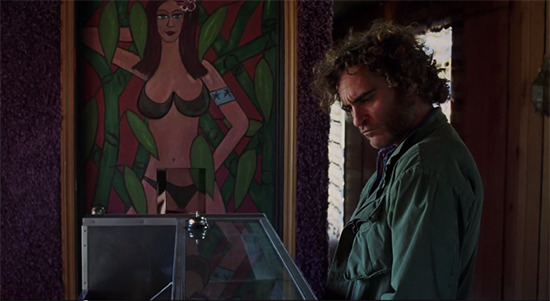 Paul Thomas Anderson's newest film, Inherent Vice, opens limited on December 12, but for the markets that don't get the film until January Warner Bros. is offering sneak preview screenings this coming Saturday, December 13. You can get theater info here, and there's a great new Inherent Vice trailer that tells of the upcoming screenings. It also has some footage you haven't seen before, a digitally-altered version of a shot from the film (above, with extra details added to the painting) and a little bit of the awesome Can song 'Vitamin C' that is used to good effect in the film's opening.
This is a really good representation of the film condensed down into two minutes. Check it out below.
Inherent Vice will be in theaters everywhere on January 9, 2015. Trailer via Warner Bros.Inherent Vice is the seventh feature from Paul Thomas Anderson and the first ever film adaption of a Thomas Pynchon novel. When private eye Doc Sportello's ex-old lady suddenly out of nowhere shows up with a story about her current billionaire land developer boyfriend whom she just happens to be in love with, and a plot by his wife and her boyfriend to kidnap that billionaire and throw him in a loony bin...well, easy for her to say. It's the tail end of the psychedelic `60s and paranoia is running the day and Doc knows that "love" is another of those words going around at the moment, like "trip" or "groovy," that's being way too overused—except this one usually leads to trouble.With a cast of characters that includes surfers, hustlers, dopers and rockers, a murderous loan shark, LAPD Detectives, a tenor sax player working undercover, and a mysterious entity known as the Golden Fang, which may only be a tax dodge set up by some dentists... Part surf noir, part psychedelic romp—all Thomas Pynchon. The film stars Oscar nominees Joaquin Phoenix ("The Master," "Walk the Line"), Josh Brolin ("True Grit," "No Country For Old Men") and Owen Wilson ("The Royal Tennenbaums," "Midnight in Paris"); Katherine Waterston ("Michael Clayton," "Boardwalk Empire"); Oscar winners Reese Witherspoon ("Walk the Line") and Benicio Del Toro ("Traffic"); Martin Short ("Frankenweenie"); Jena Malone ("The Hunger Games" series); and musician Joanna Newsom.Oscar nominee Paul Thomas Anderson ("There Will Be Blood," "The Master") directed "Inherent Vice" from a screenplay he wrote based on the novel by Thomas Pynchon. Anderson also produced the film, together with Oscar-nominated producers JoAnne Sellar and Daniel Lupi ("There Will Be Blood"). Scott Rudin and Adam Somner served as executive producers.Anderson's behind-the-scenes creative team included Oscar-winning director of photography Robert Elswit ("There Will Be Blood"), production designer David Crank ("The Master"), Oscar-nominated editor Leslie Jones ("The Thin Red Line"), and Oscar-winning costume designer Mark Bridges ("The Artist"). The music is by Radiohead's Jonny Greenwood.