Marvel's Latest Leading Lady Is Krysten Ritter As 'Jessica Jones,' Mike Colter In Line For Luke Cage [UPDATED]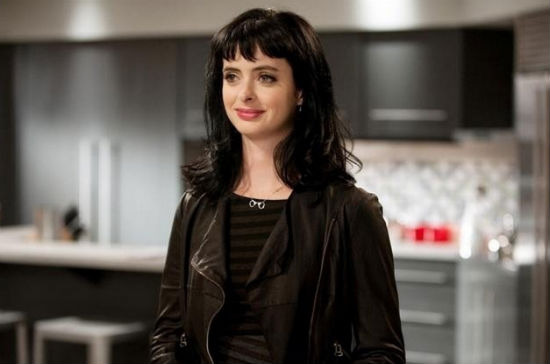 UPDATE: Marvel.com has confirmed Ritter's casting and the title of the show, A.K.A. Jessica Jones. The original story follows and the press release is after the jump.
Marvel has yet to cast Captain Marvel, but they've chosen the lead of the Netflix series Jessica Jones. Krysten Ritter, best known for her work on Breaking Bad, Gilmore Girls and Veronica Mars, has been tapped to play the lead character. Jones is a superhero with post-traumatic-stress-disorder who retires and becomes a detective, helping both regular people as well as superheroes. Melissa Rosenberg is showrunning the series, which will be the second of four Marvel Studios is bringing to Netflix. The first, Daredevil, is almost done shooting its first season. Read more about the Jessica Jones casting below. Additionally, it's looking like Mike Colter will be cast as Luke Cage.
Deadline broke the news of Ritter's likely Jessica Jones casting. Marvel wouldn't comment as they like to announce their stuff on their own. However, we know Ritter was one of the actresses competing for the role from a few weeks back. She apparently won it when producers were won over by her chemistry with Mike Colter, who is likely to play Luke Cage.
The plan here is for Daredevil to kick of this huge Netflix Marvel plan, Jessica Jones to come in second, Luke Cage would be introduced on that show, then his show would start, followed by Iron Fist. Then all four shows would combine into The Defenders. (It's also possible Iron Fist will come after Jones, but since Cage is all but cast, it seems like he'd come third).
Ritter is a great choice for the broken but smart and saavy character of Jones. Her work on Breaking Bad alone, where she could play confident but always feel vulnerable, shows she's got what it takes to play the complex former superhero. She can also dominate a scene, as we've seen in her characters on Veronica Mars and Don't Trust The B In Apartment 23. It's like she's been training to be a smart superhero detective her whole life.
The series will be 13 episodes that come to Netflix, likely, in late 2015. What do you think of the Jessica Jones casting?
UPDATE: Marvel.com confirmed Ritter's casting, but not Colter's yet. Here's the press release:Marvel and Netflix are proud to announce that Krysten Ritter will star in "Marvel's A.K.A. Jessica Jones," an all-new 13-episode series premiering on Netflix in 2015 following "Marvel's Daredevil."Ritter will play Jessica Jones, first introduced in writer Brian Michael Bendis and artist Michael Gaydos' classic ALIAS comic series. After a tragic ending to her short-lived Super Hero stint, Jones is rebuilding her personal life and career as a detective who gets pulled into cases involving people with extraordinary abilities in New York City."Krysten brings both the hard edge and the vulnerability the role demands," said Executive Producer/Showrunner Melissa Rosenberg. "We can't wait for fans to see her in action, coming to Netflix in 2015.""Krysten Ritter has the type of range, spanning the comic to the tragic, that makes for the stuff of the best Marvel heroes," said Jeph Loeb, Executive Producer/Marvel's Head of Television. "As Jessica Jones, Krysten will bring one of the most beloved new characters of the past decade to life in a way we know will delight her longtime fans and introduce her to many more."Best known for her roles in "Breaking Bad," "Don't Trust the B—- in Apartment 23," and "Veronica Mars," she will next star alongside Amy Adams, Christoph Waltz, and Jason Schwartzman in Director Tim Burton's "Big Eyes" this Holiday season."Marvel's A.K.A. Jessica Jones" is produced by Marvel Television in association with ABC Studios for Netflix.For more information on "Marvel's A.K.A. Jessica Jones," and the other exciting new Marvel Television series coming to Netflix, stay tuned to Marvel.com.