Cool Stuff: 'Star Wars: The Force Awakens' Fan Art Takes Over The Internet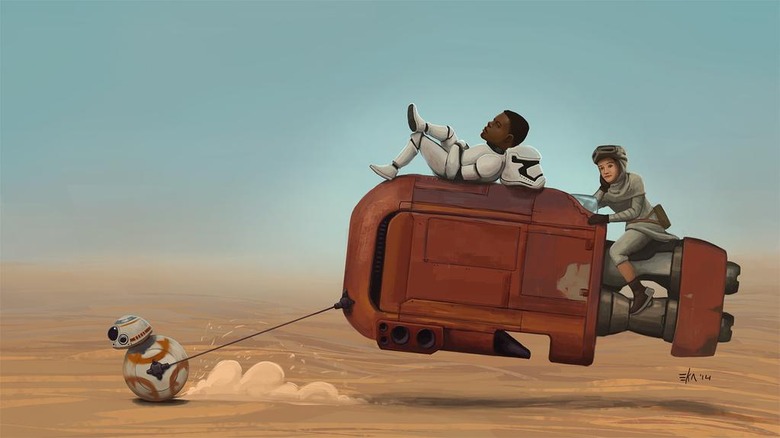 When you break down the Star Wars: The Force Awakens trailer, there are really only seven things in it. There's John Boyega as a Stormtrooper, the ball droid, the new Stormtroopers, Daisy Ridley and her speeder, Oscar Isaac and the X-Wings, the hooded figure with the lightsaber and the Millennium Falcon. It's not a lot if you think about it, but it's enough that the imaginations of the Internet exploded. Not just with speculation either. Artists have begun creating beautiful works with those seven images and we've compiled just a few of them below. Check out a ton of Star Wars: The Force Awakens fan art below.
Here's a gallery of Star Wars: The Force Awakens fan art. Mouse over each for the artist's name.
Star Wars Force Awakens Fan Art
Some of these are actually available for purchase, too, so explore the links below. And if you want to see a huge cache of these and more, Making Star Wars has a running list.
Sources: Twitter, Tumblr, DeviantArt, Twitter, Facebook, Twitter, Tumblr, Jam Wah, Mr Toast, Doaly, Tumblr, Reddit, Sketch Wars, Skinner Creative, Etsy, Deviant Art.
Here's the official description of The Force Awakens:
Star Wars: The Force Awakens, opens in theaters December 18, 2015. Star Wars: The Force Awakens is directed by J.J. Abrams from a screenplay by Lawrence Kasdan & Abrams, and features a cast including actors John Boyega, Daisy Ridley, Adam Driver, Oscar Isaac, Andy Serkis, Academy Award winner Lupita Nyong'o, Gwendoline Christie, Crystal Clarke, Pip Andersen, Domhnall Gleeson, and Max von Sydow. They will join the original stars of the saga, Harrison Ford, Carrie Fisher, Mark Hamill, Anthony Daniels, Peter Mayhew, and Kenny Baker. The film is being produced by Kathleen Kennedy, J.J. Abrams, and Bryan Burk, and John Williams returns as the composer. Star Wars: The Force Awakens is Episode VII in the Star Wars Saga.