New Howard The Duck Comic Book Announced; See First Images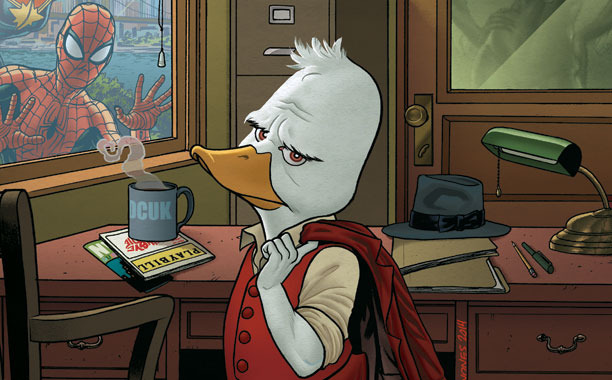 The success of the Guardians of the Galaxy movie didn't just reinvigorate that Marvel franchise. It's about to resuscitate an underground Marvel character George Lucas all but killed in the Eighties.
Marvel Comics has announced it about to start publication of a new Howard the Duck comic book. On March 4, Howard the Duck #1 by Chip Zdarsky and Joe Quinones will be released, with the story following the alien duck on adventures as a private detective in the Marvel Universe. Below, see the cover of the issue, some sketches, the full first image and some quotes from the creative team about what to expect from the new Howard the Duck comic.
Entertainment Weekly broke the news and put up these images: the cover, an image and some sketches.
So what can we expect when Howard the Duck returns to the pages of Marvel Comics?
Here's Chip Zdarsky:
He's an everyman who happens to be a duck! He's angry, exasperated, and he's had it up to here with the world around him, but he's trapped here! Infinitely relatable!
I love the contrast of Howard against both the normal world of us hairless apes and the weird worlds of Man-Things and Dr. Stranges and Spider-Mans. Cause he doesn't fit into either, really. I'm just going to continue exploring those contrasts, but my ultimate goal is to make it funny. Marvel has taken chances on funny books and injecting humor into superhero titles, so I want to make sure this is worth some chuckles here and there. God, I'm picturing the reviews now: "Some chuckles here and there." Shoot for the stars, Chip!
Quinones also teased that the alien angle will be important to the series, so that's an interesting spin.
There's no mention if Guardians of the Galaxy specifically was the catalyst for the new Howard the Duck comic, but the timing makes it seem pretty likely, would you agree?
What do you think of this new Howard the Duck comic?