'Dragonriders Of Pern' Finds A Screenwriter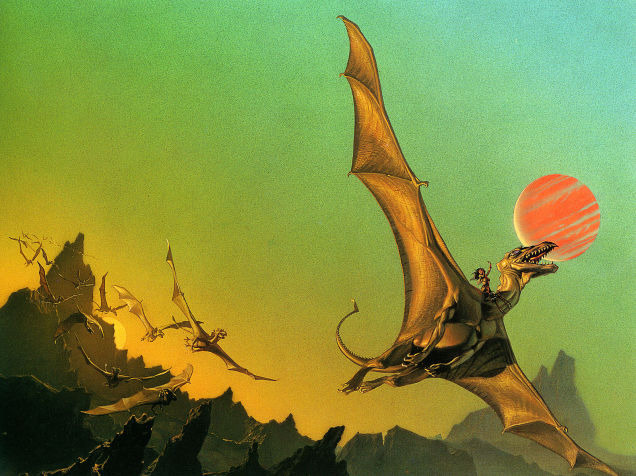 Anne McCaffrey's Dragonriders of Pern is a few different things. The book series is a work of sci-fi fantasy that holds up well; a promising franchise plan with enough raw story for several films and/or TV shows; and, thanks to the story's many layered sci-fi concepts,  one really difficult piece of work to adapt. After years of fruitless pitches by writers and producers trying to kickstart an adaptation, Warner Bros. finally optioned the books earlier this year. Now novelist Sarah Cornwell has been hired as the first Pern screenwriter.THR reports that the author of What I Had Before You, a novel published in January of this year, has been hired for the screenwriting job. She's also writing Demon Camp for Montecito Pictures, and rewrote The Forest for David Goyer. Given Goyer's standing at Warner Bros., that last point could indicate how she ended up with the Pern gig.
Presumably Cornwell will begin with an adaptation of Dragonflight, the first Pern novel, in which a breed of all-but-extinct dragons and their human riders are challenged by the reappearance of an old danger thought long past. A young woman, Lessa, harbors violent ambitions against the man who wronged her family, and finds herself able to act on them when she learns that she has a particular connection to dragons. Fold in other aspects of the story — the telepathic connection between dragon and rider; teleportation; and the nature of the planet's danger — and you can start to see why the Pern books are both a tough prospect to adapt, and a promising place to start a new fantasy film series.