'X-Men: Days Of Future Past' VFX Breakdown Shows Off The Film's Digital Artistry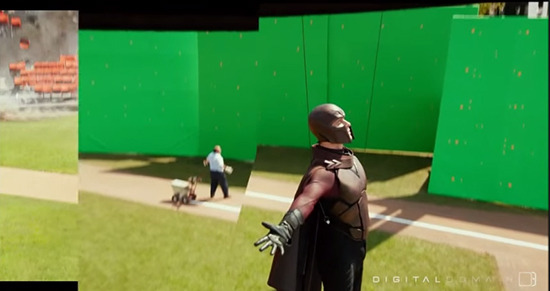 As Bryan Singer's X-Men: Days of Future Past hits digital home distribution and will soon be on Blu-ray and DVD, we're getting a barrage of behind the scenes featurettes exploring the creation of the film. Fox assumes we've all seen the movie, and is now attempting to attract audiences with teasing glimpses of the techniques used to create the film. Know what? It's working. Here's a Days of Future Past VFX breakdown from Digital Domain, showing how some of Mystique's transformations were created, and providing great detail on the development of the baseball stadium used in one big sequence.
In addition we've got few other Days of Future Past bits, including a deleted scene with Mystique, and a couple character-specific featurettes focused on Sunspot and Bishop.
First, the VFX breakdown, via io9. As is often the case with these videos, I'd like some extra discussion of techniques used, and perhaps a slower pace so I could appreciate all the individual layers of artistry. Even so, this video is very impressive; I never fail to be staggered by what great digital artists can achieve.
Here's a deleted scene featuring a conversation between Charles Xavier (James McAvoy) and Mystique (Jennifer Lawrence).
Finally, if you've missed them so far, here are quick character profiles for Sunspot and Bishop. We'll probably see a lot more on each of these characters once the Blu-ray hits. Ironically, these behind the scenes pieces will probably tell us more about the characters than the actual film managed.
X-Men: Days Of Future Past hits DVD and Blu-ray on October 14. Other videos via MovieWeb and Hypable. There will also be an extended "Rogue Cut" of the film released in 2015, with ten minutes of extra footage.